Expected colors for upcoming Samsung Galaxy Note 10 phablets revealed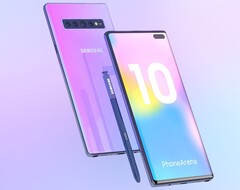 A couple of sources have revealed the choice of colors that the Samsung Galaxy Note 10 lineup will probably offer. Obviously, the South Korean manufacturer can be adventurous to a point as there are at least four different SKUs in the series. So even though black will still be par for the course, there could be some dazzle brought in by colors such as pink and silver.
Slowly but surely we have been able to build up quite a picture of the Samsung Galaxy Note 10 over the last few months, and now it seems we have some colors to dress the forthcoming devices in. Two different sources have provided what they believe will be offered, and Note fans are bound to find at least one choice that they like. Noted tipster Ice universe has stated "a gradient, blue and silver gradient."
This could mean the Note 10 gets a similar rich ocean blue color akin to the Note 9's variant. The predecessor also had a cloud silver option, so it makes sense that Samsung would offer these colors to the Galaxy Note 10 range. SamMobile has suggested that the regular (4G) Note 10 will come in the typical choices of black, silver, and white, but it will also feature red and even pink as options, with the Pro model sticking to the less egregious former trio of colors.
Neither red nor pink were options for the Note 9, and it is likely a red Samsung Galaxy Note 10 would go down very well with those who like a bit more color on their phablet. As for the 5G models, apparently both the regular and Pro versions will only come in black, silver, and white, although there is speculation that gold could be included. The Note 9 also has lavender purple and metallic copper options, so maybe these will be passed onto the Note 10 lineup, too. Regardless, red and pink Samsung Galaxy Note 10 phablets are certainly going to have plenty of fans.