Galaxy Fold up for Europe pre-order April 26, ships May 3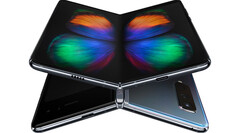 Samsung's Galaxy Fold has been given a European pre-order go live date of April 26 with availability from May 3. This means the vaunted 2,000 euro device will hit the hands of customers in the US and home market of Korea leaving continental mainland customers looking on in envy.
European customers keen to get their hands on the Samsung Galaxy Fold will be able to pre-order the device from April 26, the launch date of the device in the US and Korean home market. However, it will only be a short wait as the 2,000 euro device will be in their hands from May 3. With just around a month till its global availability, anticipation is continuing to build for the first smartphone from Samsung to feature an Infinity Fold Super AMOLED display.
Unlike Samsung's other recent flagship devices, which ship with either an home-made Exynos chip or Qualcomm Snapdragon, the Galaxy Fold will only ship with a Qualcomm Snapdragon 855 onboard. It will also come with custom Kevlar case, Galaxy Buds and Samsung Care+. Care+ is similar to AppleCare+ and protects users from accidental damage for up to a three-year period.
The included extended warranty may come in handy given there are concerns that the Fold could develop a permanent crease in its display, particularly over time. However, as a halo product, early adopting customers can probably take comfort in knowing that the company will back the product fully. The company will also face pretty stiff competition from the likes of the Huawei Mate X and others lining up to make a breakthrough foldable design popular with the masses.