Samsung allegedly constructs a 3D-curved screen to go with its under-display camera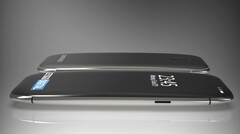 The ability to make OLED panels more and more flexible will most likely revolutionize phone design in the future. A new set of renders linked to the OEM Samsung show a device with a screen that curves not merely at its longer edges, but right down to the corners too. The blog responsible for this material also suggests that an under-display camera is part of this design.
The future of the smartphone display may be anything but flat. State-of-the-art developments in both glass and OLED technology suggest that we may not have to settle for mere 2D screens in the future. Indeed, some flagships already have screens with noticeable curves to their longer sides. This new adaptation may reduce bezels (or their appearance, at least). However, new concept-level material suggests that their next generations will have even fewer right angles and screen borders in the future.
A new set of renders compiled by Dutch blog LetsGoDigital shows a phone with a display that slopes downwards on all 4 sides toward the rear panel. This panel even has curved corners, which, while an arguably intuitive next step in mobile-device design, has yet to been realized by any OEM. The manufacturer connected to this set of renders is Samsung.
The 3D images are based on a patent allegedly filed by this company on June 6, 2019. LetsGoDigital has also integrated the possibility of an under-display camera (the punch-hole selfie camera's rumored successor). However, the document's content also allows for the possibility that the display over the same component could be left clear, as with the in-display modules of today.
The prototype phone depicted in the renders also lacks up-to-date features such as triple rear cameras, indicating that it needs to catch up with the relevant grade. In addition, should this patent ever translate to reality, it may become rapidly outmoded by another probable direction for increasingly flexible screen tech: the foldable phone.