Corning is working on Gorilla Glass for foldable smartphones but it could take years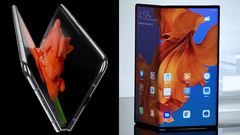 It has been reported that Corning is working on flexible glass that will be strong enough to use with foldable phones. Presently, foldable devices rely on plastic polymers because of their flexibility. However, Corning wants to eventually create a glass product that offers the useful properties of the plastic polymer screens but with the quality and hardness of glass.
Working For Notebookcheck
Are you a techie who knows how to write? Then join our Team! Especially English native speakers welcome!
Currently wanted:
News and Editorial Editor - Details here

Corning's Gorilla Glass is a ubiquitous feature in the smartphone world. Users want their expensive flagship smartphones to be durable and attractive, which usually means Corning Gorilla Glass 5 or even Gorilla Glass 6 is present. However, two current notable exceptions are the Samsung Galaxy Fold and the Huawei Mate X, for obvious folding reasons.
It seems the glass specialists don't want to be left out of the burgeoning foldable market, no doubt to the relief of some smartphone manufacturers. Flexible glass is already a thing; Corning's own Willow Glass has been around for several years already. By combining the bendable nature of Willow Glass with the strength of Gorilla Glass, Corning hopes to come up with a product ideal for the extra demands a foldable smartphone requires of its display.
A few months ago, we reported on the challenges that would face Corning in manufacturing a glass screen for foldable smartphones, and it seems the company couldn't cater in time for the first foldable devices on the market. It's not a simple task to create a quality glass that is tough and ultra flexible, though. In an interview with Wired, Corning's general manager John Bayne said:
The back of the problem we're trying to break, the technical challenge, is, can you keep those tight 3- to 5-millimeter bend radii and also increase the damage resistance of the glass.
Bayne acknowledges customers want super-thin glass that can bend to a 5 mm radius but can also survive drops and bangs. Corning plans to ultimately offer a product with both those qualities, but it might take a couple of years to do so – just in time for Apple's foldable iPhone to benefit from it.