The Samsung Galaxy Fold could be over US$2000 in India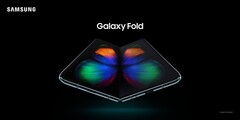 Samsung India will open registrations for the Galaxy Fold in this country on October 4, 2019. On this date, it will reportedly be sold for INR 164,999 - which equates to about US$2320. This price includes a discounted for 1 repair should the new phone's display get damaged.
Samsung will reportedly begin a pre-registration program for the Galaxy Fold in India soon. However, interested consumers in this country may receive an unwelcome surprise when the full details of this process are outlined. The breakthrough flexible device is now said to cost INR 164999 (or about US$2319 at the time of writing) when it actually goes on sale. This is quite a mark-up over its previously-reported recommended price of $1980.
The Galaxy Fold's Indian release is currently at a stage in which potential buyers can sign up for more information on the new kind of smartphone. Thereafter, they may find out which links will allow them to register to buy such a device. However, the actual units are said not to become available for shipping until October 20, 2019.
Samsung will also offer the Galaxy Fold in its Black or Silver rear-panel finishes only in this country. Otherwise, it will have the specifications associated with this new flexible phone found in other markets. They include 12GB of RAM, 512GB of internal storage, and 2 touchscreens of varying sizes. Indian customers will also get Galaxy Fold Premier Service included in their price, as well as their first screen repair rebated to only INR 10500, or about $148.