The latest Galaxy Note 10 rumor could be a deal breaker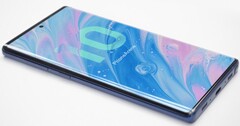 In a rumor that could be a deal killer for potential Galaxy Note 10 customers, it looks like Samsung will be removing a key feature from at least one of the two purported variants. If the source is correct, the smaller of the two purported Galaxy Note 10 models will forgo microSD card support leaving that feature for the larger Note 10 Pro only.
Leaked specifications and renders of Samsung's Galaxy Note 10 has rightly got a lot of people excited about its arrival. It almost bezel-less design looks stunning. However, a report has emerged that at least one of the two purported variants won't have support for a microSD card. This is a key power-user feature and one that we expected to continue to be synonymous with the Galaxy Note for some time yet. Thankfully, however, the same source confirms both devices retain their headphone jack, despite some confusion on the subject.
According to XDA Developers writer Max Weinbach, one of his sources has had some hands-on time with both the Galaxy Note 10 and the Galaxy Note 10 Pro. Of these, only the larger 6.7-inch Pro model continues to support a microSD card. The Galaxy Note line has typically been targeted at business professionals, for whom transferring data between devices via microSD has certainly been the norm in the past. However, it seems Samsung must be targeting a different kind of customer for the smaller 6.3-inch Galaxy Note 10 model, possibly creatives.
We expect that the Galaxy Note 10 will pick up at least 128 GB of storage as standard, which should cater for plenty of users. But Samsung's customers, whether for the Galaxy Note or Galaxy S range, have historically expected microSD card support. It was only in 2015 that the company caused a kerfuffle by dropping support for removal batteries as well as microSD card support. While the removal batteries policy didn't change, the company backflipped on microSD support. Is Samsung playing with fire once again?