Leaked real-life photos of the Galaxy Note 10+ appear online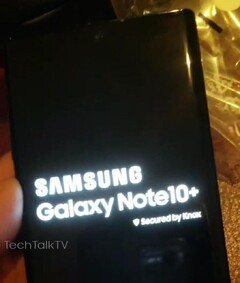 Let's go! A set of photos of supposedly the upcoming Galaxy Note 10+ are circulating online, showcasing what looks to be a stunning device. With a near 100% screen-to-body ratio, practically zero bezels and a curved display, the Note 10+ will certainly turn heads.
So here we have it, a first look at the Samsung Galaxy Note 10+. The photos come courtesy of TechTalkTV, who posted them earlier today on Twitter. If they are fakes, then they are good ones, as there appears to be no doctoring of the photos. TechTalkTV has not revealed how he obtained these photos either, so keep in mind that these could be an elaborate hoax.
Regardless of authenticity, the device photographed looks gorgeous with its curved display and almost 100% screen-to-body ratio. The device looks remarkably like the CAD designs posted by OnLeaks, which were supposedly based off official schematics. Samsung has moved the punch-hole camera to the centre of the display while almost eliminating the top and bottom bezels. The chin of the Note 10+ is still there, but it has been noticeably reduced compared to the one on the Galaxy S10+.
The photo set also shows the back of the device, with what looks like the turquoise green colour that we have seen in previous leaks. The device in question also sports three rear-facing cameras with possibly a fourth sitting below the LED flash, confirming previous speculation too. The Samsung logo is the only other element interrupting the back glass, suggesting that the company has equipped the Note 10+ with an in-screen fingerprint scanner.
It is unsurprising to see Samsung stick with its "+" scheme rather than switch to using "Pro" too. What do you think, elaborate fakes or the real McCoy? We will have to wait until early August to find out.