The Samsung Galaxy Note 10 will be a chinless wonder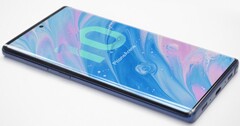 An apparent screen protector for the upcoming Samsung Galaxy Note 10 has been leaked online, and if it is genuine then the rumors about the vaunted phablet having a bezel makeover are justified. The Galaxy Note 9 is a terrific device but it has a considerable chin to it, which seems to be something the Galaxy Note 10 won't be emulating.
The latest Samsung Galaxy Note 10 reveal from Ice universe has more substance than the usual speculative hints and cryptic clues. A tweet from the tipster has a photo of a protective film sample (see below) that he claims is for the Note 10. Unfortunately, it seems many mistakenly took the image as proof that the much-anticipated device would feature an under-display camera.
What Ice universe appears to be trying to show is how narrow the bezels for the Samsung Galaxy Note 10 are going to be. Once his explanation that the screen protector does not feature a punch-hole cut-out for the selfie camera because of "the lack of dimensional data of the hole" sinks in, then it becomes easier to focus on what's important here: The Galaxy Note 10 will have an astonishing screen-to-body ratio and a very narrow chin.
It is certainly a design step-up from the Galaxy Note 9. That high-end phablet has reasonably sized bezels at the side, and the top bezel is noticeable but hardly egregious. However, its chin is frankly enormous and clearly Samsung felt something as special as the Galaxy Note 10 should have a much reduced bottom bezel so that users can enjoy more screen real estate.