HP ProOne 600 G5 21.5-in All-in-One with Intel Core i9-9900T manages fierce single-core and multi-core results on UserBenchmark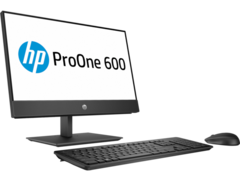 A system record apparently for an HP ProOne 600 G5 21.5-inch All-in-One enjoying the company of Intel's Core i9-9900T processor has been discovered on UserBenchmark. The focus of the benchmark is clearly on the processor as the rest of the system does not seem to be fully completed yet. The Coffee Lake desktop CPU has eight cores and 16 threads.
It seems an HP ProOne 600 G5 21.5-inch All-in-One computer has turned up on UserBenchmark. HP's current range of all-in-one desktop PCs features ProOne 600 G4 business devices that can be configured with 8th Gen Intel Core chips. The apparent upcoming HP ProOne 600 G5 has the power of the new i9-9900T to help it get ahead, as evidenced by the UserBenchmark results.
The multi-core score for the i9-9900T in the HP ProOne 600 G5 was 176% 1,179 points. With eight cores and 16 threads and clocks of 2.1 GHz to 3.75 GHz (average) to utilize, it's not surprising a good result was achieved here. The database entry for the system even suggests the computer and its Coffee Lake processor are suitable for 3D gaming.
But it's in the single-core testing that the HP ProOne 600 G5's Intel Core i9-9900T really spreads its wings. The final score was registered at an outstanding 97.2% 121 points, which UserBenchmark succinctly describes as "this CPU is the business: It demolishes everyday tasks such as web browsing, office apps and audio/video playback."