Archos introduces 21.5" all-in-one with Intel Atom chip and small bezels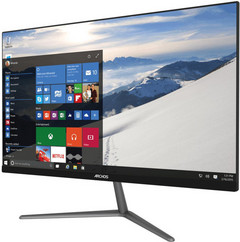 Archos has announced the Vision 215, a new all-in-one system with a 21.5" display which focuses on the low-end market. The all-in-one uses an Intel Atom Z8350 soc and will have a price tag of less than US$375.
French manufacturer Archos, mostly known for its inexpensive Android tablets and smartphones, has announced an inexpensive all-in-one computer with a minimalistic design and small screen bezels. The Vision 215 isn't a particularly fast system as it's equipped with an Intel Atom Z8350 soc and is aimed towards the low-end market. The Z8350 is a quad-core chip with a clock speed of 1.9 GHz and an embedded Intel HD Graphics 400 GPU.
The 21.5" display features a screen resolution of 1920 x 1080 and the computer hardware has been built into the lower part of the screen. The bezels of the screen are only 7 millimeters wide, which makes it one of the only all-in-one systems on the market with relatively small bezels and a low price tag. The all-in-one has built-in stereo speakers and support for Wi-Fi and Bluetooth 4.0.
The Vision 215 also features 4 GB of internal LPDDR3 memory and 32 GB of flash eMMC storage. eMMC is significantly slower than a solid state drive, but cheaper to produce as well. Storage can be expanded with a microSD card or a 2.5" hard drive or SSD. The device runs Windows 10 Home Edition and includes a keyboard and mouse in the box.
Archos will release the Vision 215 in May for a recommended retail price of 299.99 Euros, which roughly equates to $US375. The company will also show its new all-in-one at the Mobile World Congress in Barcelona.