Archos to offer physical cryptocurrency wallet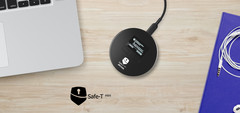 French electronics company Archos has unveiled plans to release a hardware wallet that will provide cryptocurrency owners with a physical layer of security for their virtual currency transactions. The Archos Safe-T mini hardware device can be connected to a computer or smartphone via microUSB cable. The wallet will be released in June, 2018 and will cost €49.99 (~US$61).
In this world of technology dominated by familiar names such as Apple, Samsung, Dell and Huawei it is nice to see companies like Archos still making attempts to innovate. It seems the Safe-T mini hardware cryptocurrency wallet is a good example of this innovation. Clearly, researchers at the company based in Igny, France have been watching the cryptocurrency boom with interest and have developed a product that could prove to be very useful to virtual currency traders in the current climate.
Cryptocurrency headlines frequently revolve around massive heists and there is plenty of concern in regard to the security offered by software-based cryptocurrency wallets. Archos hopes an actual physical product will lend reassurance to those involved in virtual currency buying and trading. The unit will initially be compatible with these major cryptocurrencies: Bitcoin, Bitcoin Cash, Dash, Litecoin, Zcash, and Ethereum.
The Safe-T mini is powered by a 120 MHz ARM Cortex M-3, offers multiple OS connectivity (Android, Windows, Linux and macOS X) and it has an OLED display with 128x64 resolution. Security features include PIN code setup, private key generation and storage and enhanced transaction details involving the OLED screen and the device's physical buttons.