Xiaomi Redmi Note Series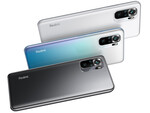 Processor:
unknown, Mediatek MT6795, Mediatek Dimensity 700, Mediatek Dimensity 800U, Mediatek Mediatek Helio G85, Mediatek Mediatek Helio G90T, Mediatek Mediatek Helio G95, Qualcomm Snapdragon 425, Qualcomm Snapdragon 435, Qualcomm Snapdragon 625, Qualcomm Snapdragon 650 MSM8956, Qualcomm Snapdragon SD 636, Qualcomm Snapdragon SD 660, Qualcomm Snapdragon SD 665, Qualcomm Snapdragon SD 678, Qualcomm Snapdragon SD 720G, Qualcomm Snapdragon SD 732G, Qualcomm Snapdragon SD 750G 5G
Graphics Adapter:
unknown, ARM Mali-G52 MP2, ARM Mali-G57 MP2, ARM Mali-G57 MP3, ARM Mali-G76 MP4, ARM Mali-T880 MP4, Imagination PowerVR G6200, Qualcomm Adreno 308, Qualcomm Adreno 505, Qualcomm Adreno 506, Qualcomm Adreno 509, Qualcomm Adreno 510, Qualcomm Adreno 512, Qualcomm Adreno 610, Qualcomm Adreno 612, Qualcomm Adreno 618, Qualcomm Adreno 619
Display:
5.50 inch, 5.99 inch, 6.26 inch, 6.30 inch, 6.43 inch, 6.50 inch, 6.53 inch, 6.67 inch
Weight:
0.15kg, 0.153kg, 0.16kg, 0.164kg, 0.165kg, 0.175kg, 0.178kg, 0.1788kg, 0.18kg, 0.181kg, 0.186kg, 0.19kg, 0.192kg, 0.193kg, 0.199kg, 0.2kg, 0.209kg, 0.215kg
Price:
199, 200, 227, 229, 239, 249, 250, 269.90, 280, 299, 300, 310 euro
price: 85%, performance: 76%, features: 77%, display: 80%
mobility: 88%, workmanship: 81%, ergonomy: 82%, emissions: 95%
Xiaomi Redmi Note 3
Xiaomi unveiled its price-friendly Redmi Note 3 as the latest flagship of their line-up. It is available in silver, dark grey, and gold armor and will impress users with its metal-bodied design and the first fingerprint sensor among all Chinese electronics companies. The design is almost the same than the Redmi Note 2's, but it features an elegant metal case. It is still slim and lightweight since the weight only increased by 4 g. Functionality-wise, it stands out with the fingerprint sensor on the rear, which is advertised to unlock the phone in 0.3 seconds. It is just below the rear camera, where it can be comfortable touched by your index finger touch, works precisely and improves biometric security. The Android operating system coupled with the MIUI launcher offers a twist and cosmetic touch. Despite its smooth build quality, this 5.5 inch phone is significantly better with the 4000 mAh battery, and its 13 MP rear camera with dual-LED dual-tone flash and autofocus phase detection mode. The rest including MediatekHelio X10 chipset octa-core 2.0 GHz Cortex-A53, 2GB/3GB of RAM, 16GB/32GB of internal storage etc. remained the same. On the other hand, it is still lacks a MicroSD card slot and a removable battery.
Specifications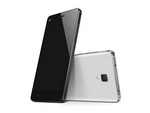 Notebook:
Xiaomi Redmi Note 3
Processor:
Mediatek MT6795
Graphics Adapter:
Imagination PowerVR G6200
Display:
5.50 inch, 16:9, 1920 x 1080 pixels
Weight:
0.164kg
Price:
300 euro
Links:
Redmi Note 3 (Model)
Pricecompare
Average Score:
Average of 12 scores (from 25 reviews)
Foreign Reviews
Xiaomi Redmi Note 4
Specifications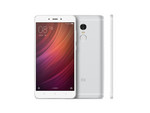 Notebook:
Xiaomi Redmi Note 4
Processor:
unknown
Graphics Adapter:
ARM Mali-T880 MP4
Display:
5.50 inch, 16:9, 1920 x 1080 pixels
Weight:
0.175kg
Price:
300 euro
Links:
Redmi Note 4 (Model)
Pricecompare
Average Score:
Average of 45 scores (from 98 reviews)
Foreign Reviews
Xiaomi Redmi Note 3 Pro
Specifications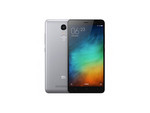 Notebook:
Xiaomi Redmi Note 3 Pro
Processor:
Qualcomm Snapdragon 650 MSM8956
Graphics Adapter:
Qualcomm Adreno 510
Display:
5.50 inch, 16:9, 1920 x 1080 pixels
Weight:
0.16kg
Price:
200 euro
Links:
Pricecompare
Average Score:
Average of 5 scores (from 14 reviews)
Foreign Reviews
Xiaomi Redmi Note 4X
Specifications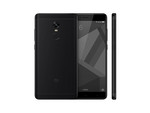 Notebook:
Xiaomi Redmi Note 4X
Processor:
Qualcomm Snapdragon 625
Graphics Adapter:
Qualcomm Adreno 506
Display:
5.50 inch, 16:9, 1920 x 1080 pixels
Weight:
0.165kg
Price:
300 euro
Links:
Pricecompare
Average Score:
Average of 16 scores (from 32 reviews)
Foreign Reviews
Xiaomi Redmi Note 5A
Specifications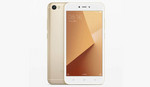 Notebook:
Xiaomi Redmi Note 5A
Processor:
Qualcomm Snapdragon 425
Graphics Adapter:
Qualcomm Adreno 308
Display:
5.50 inch, 16:9, 1280 x 720 pixels
Weight:
0.15kg
Links:
Pricecompare
Average Score:
Average of 7 scores (from 26 reviews)
Foreign Reviews
Xiaomi Redmi Note 5A Prime
Specifications
Notebook:
Xiaomi Redmi Note 5A Prime
Processor:
Qualcomm Snapdragon 435
Graphics Adapter:
Qualcomm Adreno 505
Display:
5.50 inch, 16:9, 1280 x 720 pixels
Weight:
0.153kg
Price:
200 euro
Links:
Pricecompare
Average Score:
Average of 12 scores (from 20 reviews)
Foreign Reviews
Xiaomi Redmi Note 5 Pro
With a weight of 181 g and measured at 158.6 x 75.4 x 8.1mm, the sleek, yet sophisticated Xiaomi Redmi Note 5 Pro, was first released on February, 2018. Xiaomi has been noted as the king of the Indian smartphone in the smartphone market exceeding the Chaebol during the fourth quarter of 2017. It is cloaked with a front glass, aluminum body and offers an alternative range of colors; such as black, champagne, gold, rose gold, and lake blue. It comes with 64 GB storage and a microSD card slot up to 256 GB that uses SIM 2 slot, and hybrid dual SIM (Nano-SIM, dual stand-by). Its capacitive IPS LCD touchscreen features 16M colors, a resolution of 1.080 x 2.160 pixels, and an aspect of 18:9. The Redmi Xiaomi Note 5 Pro also works on a multi-touch function and is protected with a 2.5D Corning Gorilla glass that provides resistance to wear. It runs also on Android 7.1.2 (nougat) operating system and a 1.8 GHz Kryo 260 octa-core CPU, which greatly advances the overall performance and power efficiency of this device, and an Adreno 509 GPU. It also contains a Qualcomm SDM636 Snapdragon 636 chipset, which proves the belief that it is noted to be the fastest Redmi Note to date. The Snapdragon 636 tops is up to 40 percent faster than its predecessor. Moreover, the internal storage capacity is 64 GB and the RAM capacity is 4 or 6 GB RAM. The main highlight of the Xiaomi Redmi Note 5 Pro is its 12MP + 5MP dual camera with phase detection autofocus and an LED flash. It delivers high-quality images, even in low light conditions and is probably one of the best cameras in this price range. The Xiaomi Redmi Note 5 Pro, which is noted to be the top-selling smartphone in Indian smartphone market by the end of the third quarter in 2017, also features Beautify 4.0, which is based on an Al-based technology. It will immediately detect facial features to natural enhance any face with its many functions. An added bonus of the Redmi Note 5 Pro is that, it is accompanied with a Faceblock feature that unlocks the Xiaomi Redmi Note 5 Pro just by recognizing a user's face upon turning on the screen, which is done in less than 0.2 seconds. Its connectivity includes WiFi, Bluetooth, GPS, and FM radio. The Xiaomi Note 5 Pro brings flagship smartphone features to a near entry-level price point. Like all the previous Note series, the Redmi Note 5 sets the benchmark for the budget friendly smartphone category. Hands-on article by Jagadisa Rajarathnam
Specifications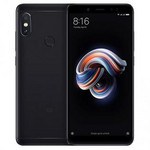 Notebook:
Xiaomi Redmi Note 5 Pro
Processor:
Qualcomm Snapdragon SD 636
Graphics Adapter:
Qualcomm Adreno 509
Display:
5.99 inch, 18:9, 2160 x 1080 pixels
Weight:
0.181kg
Links:
Pricecompare
Average Score:
Average of 15 scores (from 31 reviews)
Foreign Reviews
Xiaomi Redmi Note 5
Specifications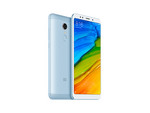 Notebook:
Xiaomi Redmi Note 5
Processor:
Qualcomm Snapdragon SD 636
Graphics Adapter:
Qualcomm Adreno 509
Display:
5.99 inch, 2:1, 2160 x 1080 pixels
Weight:
0.18kg
Price:
239 euro
Links:
Pricecompare
Average Score:
Average of 72 scores (from 152 reviews)
Foreign Reviews
Xiaomi Redmi Note 6 Pro
The Xiaomi Redmi Note 6 Pro is the first Redmi phone with a front facing dual camera. It offers amazing photo quality and perfectly lit selfies with its dual camera setup and 4-in-1 Super Pixel. It measures 157.91 x 76.38 x 8.26 mm (height x width x thickness). The Redmi Note 6 Pro is available in four color variants which are black, red, blue, and rose gold. The 12 + 5 MP dual camera features massive 1.4 μm pixels that capture more light, producing brilliant photos in low light. Dual Pixel autofocus enhances high-quality picture while drastically improving focus speeds. The rear dual camera AI is capable of detecting 27 types of scenes instantly. The camera can capture brilliant photos intelligently. It is capable of adding 6 different kinds of lens flare effects to give the photos a dream-like quality. The 19:9 Full-Screen Display naturally curves into the phone to provide a wide view that fits perfectly in hand. It is a Full HD+ IPS LCD display with an aspect ratio of 19:9. It is protected by a Gorilla Glass and has a pixel density of 403 PPI. The Note 6 Pro features a fingerprint scanner on the back. It's always-on, very fast and accurate. Users can also set up face unlock in addition to fingerprint unlock. The Xiaomi Redmi Note 6 Pro is powered by a Qualcomm SDM636 Snapdragon 636 CPU processor with 64 GB, 4/6 GB RAM or 32 GB, 3 GB RAM. The 14 nm manufacturing process makes the silicon quite power-efficient and it keeps it cool under peak load. For game rendering, it has Adreno 509 GPU to take care of graphics. Xiaomi Redmi Note 6 Pro has a P2i Nano coating for liquid repellent. It provides protection spanning from humidity and weather, to splashes and spills and even accidental submersion. As for the battery, it packs in a non-removable Li-Po 4,000 mAh battery at 8.2 mm device thickness, running on Android 8.1 (Oreo). The 4,000 mAh high-density battery stays charged longer so a user won't need to keep charging. It supports regular 5V/2A charging, which restores about 28% of the battery in 30 minutes. Other specifications include dual 4G VoLTE and Bluetooth 5. Xiaomi is known for their aggressive price with a great specification, and it is no exception with the Xiaomi Redmi Note 6 Pro. It has a great display, snappy performance, excellent battery life, and great camera experience. All these come at a low price tag, which is suitable for users on a budget but still wants decent hardware specifications that can last at least a year or two. Hands-on article by Jagadisa Rajarathnam
Specifications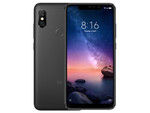 Notebook:
Xiaomi Redmi Note 6 Pro
Processor:
Qualcomm Snapdragon SD 636
Graphics Adapter:
Qualcomm Adreno 509
Display:
6.26 inch, 19:9, 2280 x 1080 pixels
Weight:
0.178kg
Price:
200 euro
Links:
Pricecompare
Average Score:
Average of 42 scores (from 84 reviews)
Foreign Reviews
Xiaomi Redmi Note 7
The Redmi series has been the well-known benchmark for budget price to specs ratio. This year's Xiaomi Redmi Note 7 is a smartphone which claims to deliver great performance and a new design. Despite having better performance, it has a low-price range which is very welcome in the market. The Redmi Note 7 brings a new design language to the Redmi series - the Aura Design. It's an amalgamation of impeccable craftsmanship with retained practicality to deliver an immersive experience to the Mi Fans. It features a double-sided 2.5D glass body. Furthermore, it has P2i coating which makes it splash proof. P2i's patented pulsed plasma deposition process creates a tough nano coat. This will protect against humidity, everyday splashes and spills. This technology will enhance the durability of the device by reducing the risk of liquid damage. To deliver performance, the Redmi Note 7 features a 2.2 GHz Snapdragon 660 AIE Processor which delivers impressive speed for an incredibly smooth and responsive gaming experience. It is paired with with 4 GB RAM, 64/128 GB or 3 GB RAM, 32 GB ROM. As for image capture, it has 13MP selfie camera with AI Face unlock. User can unlock the device with a quick glance using AI Face unlock. The AI Portrait mode makes sure the subject stands out. The camera will take multiple photos and then balance the elements to give the perfect group picture. For the rear camera, it has a dual camera system consisting of a 48 MP, f/1.8, 1/2", 0.8µm, PDAF sensor and 5 MP, f/2.4 sensor. It is a AI-enhanced camera can detect scenes in real time. The camera is smart enough to frame the subject even in low-light conditions. For the display, the Redmi Note 7 has the Dot Notch Display, which comes as the latest innovation aimed at maximizing the Full Screen Display experience. The design features a front camera without compromising on screen space. The FHD+ 2340 x 1080 resolution enriches your viewing experience by delivering crisp visuals and sharper details. The 19.5:9 aspect ratio and high screen-to-body ratio result in a truly refined viewing experience. To protect the screen, it has Corning Gorilla Glass 5, which offers 4 times stronger drop resistance than its predecessor. Xiaomi have further reinforced the 4 corners to protect the screen. Powering the Redmi Note 7 is a 4,000 mAh high-capacity battery, which supports the Qualcomm Quick Charge 4 technology to deliver exceptional battery performance. The Type-C port and the standard 3.5 mm headphone jack allow users to charge and listen to the music with the headphone at the same time, which is an advantage. As a conclusion, the Redmi Note 7 is a great choice for people who need a smartphone at a budget, which still delivers decent performance and captures good photos. Hands-on article by Jagadisa Rajarathnam
Specifications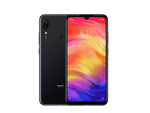 Notebook:
Xiaomi Redmi Note 7
Processor:
Qualcomm Snapdragon SD 660
Graphics Adapter:
Qualcomm Adreno 512
Display:
6.30 inch, 19.5:9, 2340 x 1080 pixels
Weight:
0.186kg
Price:
227 euro
Links:
Pricecompare
Average Score:
Average of 116 scores (from 242 reviews)
Foreign Reviews
Xiaomi Redmi Note 7 Pro
Specifications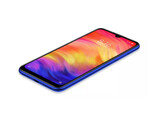 Notebook:
Xiaomi Redmi Note 7 Pro
Processor:
unknown
Graphics Adapter:
unknown
Display:
6.30 inch, 19.5:9, 2340 x 1080 pixels
Weight:
0.186kg
Price:
200 euro
Links:
Pricecompare
Average Score:
Average of 7 scores (from 25 reviews)
Foreign Reviews
Xiaomi Redmi Note 7S
Specifications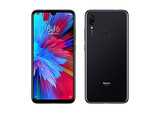 Notebook:
Xiaomi Redmi Note 7S
Processor:
Qualcomm Snapdragon SD 660
Graphics Adapter:
Qualcomm Adreno 512
Display:
6.30 inch, 19.5:9, 2340 x 1080 pixels
Weight:
0.186kg
Price:
200 euro
Links:
Pricecompare
Average Score:
Average of 5 scores (from 10 reviews)
Foreign Reviews
Xiaomi Redmi Note 8 Pro
Specifications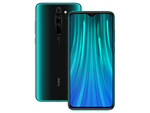 Notebook:
Xiaomi Redmi Note 8 Pro
Processor:
Mediatek Mediatek Helio G90T
Graphics Adapter:
ARM Mali-G76 MP4
Display:
6.53 inch, 19.5:9, 2340 x 1080 pixels
Weight:
0.2kg
Price:
250 euro
Links:
Pricecompare
Average Score:
Average of 78 scores (from 196 reviews)
Foreign Reviews
Xiaomi Redmi Note 8
Specifications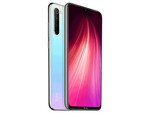 Notebook:
Xiaomi Redmi Note 8
Processor:
Qualcomm Snapdragon SD 665
Graphics Adapter:
Qualcomm Adreno 610
Display:
6.30 inch, 19.5:9, 2340 x 1080 pixels
Weight:
0.19kg
Price:
200 euro
Links:
Pricecompare
Average Score:
Average of 34 scores (from 84 reviews)
Foreign Reviews
Xiaomi Redmi Note 8T
Specifications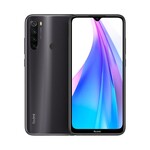 Notebook:
Xiaomi Redmi Note 8T
Processor:
Qualcomm Snapdragon SD 665
Graphics Adapter:
Qualcomm Adreno 610
Display:
6.30 inch, 19.5:9, 2340 x 1080 pixels
Weight:
0.2kg
Price:
249 euro
Links:
Pricecompare
Average Score:
Average of 60 scores (from 100 reviews)
Foreign Reviews