OPPO drops glimpses of its 2020 smartwatch and truly wireless earbuds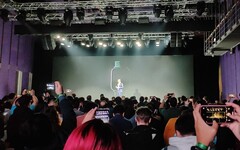 OPPO's Inno Day 2019 event was mostly dominated by upcoming products such as its AR headset. However, it also teased new wearables that may launch soon as well. They are a new pair of truly wireless (TWS) earbuds, as well as a square-faced smartwatch.
OPPO may be mainly thought of as a smartphone OEM, but it does make other products, a high-end DAC included. It has released details of numerous upcoming devices in this vein at its developer-focused Inno Day of 2019. They include a new pair of TWS earbuds and a smartwatch.
The OEM did not launch these overtly at the conference, although it dropped strong hints as to what these accessories might look like. For example, the Inno Day presenters threw an image of toothbrush-form TWS buds up on screen while alluding to their company's foray into this market. Frankly, it is not clear if this is what the new products are going to look like for sure; however, presuming this is the case, the new OPPO earbuds will end up a lot like Apple's AirPods.
On that note, the Inno Day visuals also included an artfully-shadowed trailer of a squarish smartwatch quite reminiscent of the Amazfit GTS or Xiaomi Mi Watch. Therefore, it may be reasonable to presume the corresponding product is shaping up to be yet another Apple Watch clone, possibly with Google's Wear OS. However, OPPO asserts that it will integrate the AI and deep learning necessary to augment a smartphone effectively.