The Samsung Galaxy Note 10 Lite gets its WiFi certification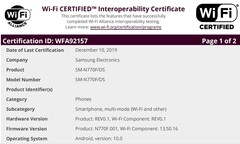 The Samsung Galaxy Note 10 Lite has just received its WiFi certification, but most of the details remain sketchy for now. This upcoming handset is expected to be powered by the Exynos 9810 processor, at least 6 GB of memory and 64 GB of internal storage, a display of around 6.5 inches in size, with Android 10 on top.
After spending some time spinning around in the rumor mill, the Samsung Galaxy Note 10 Lite has recently started to pop up on various certification websites. After Bluetooth SIG and the FCC (where it was spotted the Galaxy S10 Lite), the time has come for the WiFi Alliance to receive this handset for testing and certification, a process that is now already complete.
Unfortunately, the Wi-Fi Certified Interoperability Certificate with the ID WFA92157 and dated December 10, 2019 does not reveal much about the Samsung Galaxy Note 10 Lite, except its model number and operating system version. The SM-N770F/DS device runs Android 10 out of the box, and the rest of the specs remain shady for now.
According to previous leaks and rumors, the Samsung Galaxy Note 10 Lite is loaded with the Exynos 9810 processor alongside at least 6 GB of memory, features a generous display with a 6.5 - 6.7 inch diagonal, a single-punch hole camera in the center of its upper side, a triple camera setup on the back in a square-shaped module, and it apparently measures 6.45 x 2.99 x 0.34 inches.
The sad part is that it will not come cheap, although it is a "Lite" device. If the rumors turn out to be true, the Samsung Galaxy 10 Lite will start around the 600 EUR mark (roughly US$675).