Xiaomi Mi 8 Lite picks up a miraculous MIUI 11 update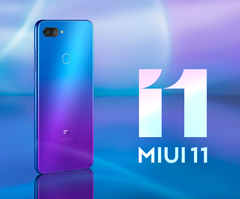 The Mi 8 Lite is a beacon among a sea of Xiaomi handsets being upgraded to Android 9.0 Pie builds of MIUI 11. The Chinese company released the Snapdragon 660 powered handset in September 2018 running Android 8.1 Oreo and has since upgraded it to Android 9.0 Pie builds of MIUI 10.2. Xiaomi is not done with OS upgrades for the midrange device quite yet, though.
What a year it has been for the Mi 8 Lite. While even some flagship smartphones are lucky to receive a single OS upgrade per year, the budget handset is in line for its second in little over twelve months. Xiaomi, to recap, launched the Mi 8 Lite in September 2018 running Android 8.1 Oreo builds of MIUI 10. The device had not received Android 9.0 Pie when we tested it in January, with Xiaomi upgrading the Mi 8 Lite to Pie in February courtesy of MIUI 10.2.
Now, Piunikaweb has spotted that Xiaomi has started rolling out MIUI 11 beta builds to the fifteen-month-old handset. Surprisingly, these are based on Android 10 and not Android 9.0 Pie as we have seen on other Xiaomi smartphones. Please note that this a Chinese beta, which means that it will not come with Google Play Services pre-installed.
However, its appearance does mean that Xiaomi is likely working to bring Android 10-based builds of MIUI 11 to its Global Stable branch. You can download the 2.1 GB build from here if you are interested in trying Android 10 on your Mi 8 Lite, though. Piunikaweb notes that the device will ask for verified account details if the build is flashed using the default System Updater, installing it in TWRP will bypass this. We cannot comment on the validity of this, though.