YHE BP Doctor: A new AMOLED smartwatch that measures blood pressure, oxygen saturation and heart rate variability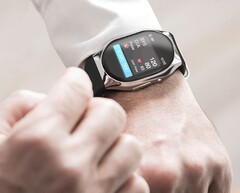 The YHE BP Doctor is a new smartwatch that can measure blood pressure, along with oxygen saturation levels and heart rate variability. All this functionality should make the YHE BP Doctor capable of providing important information about your own health.
YHE markets the BP Doctor as a "true wearable blood pressure monitoring solution", but one that it has made to look like a smartwatch. According to the company, the YHE BP Doctor has a "patented auto-inflated cuff method", which allows it to offer medical-grade accuracy.
The smartwatch not only measures blood pressure but also heart rate variability, which measures the distance between two heartbeats. This can be used to quantify stress levels, apparently. Additionally, the wearable can analyse sleep patterns and oxygen saturation levels.
The YHE BP Doctor has a 1.4-inch AMOLED touchscreen, which has a 320 x 360 native resolution. The device runs on an OS based on FreeRTos, and supposedly lasts up to five days between charges. YHE claims that the BP Doctor can display notifications from your phone, too.
The YHE BP Doctor is available to order on Indiegogo now from US$289. The campaign has already exceeded its funding goal, with YHE aiming to ship orders to backers in June 2020.