Rare GeForce RTX 2060 Max-Q launches amidst the storm of AMD Renoir announcements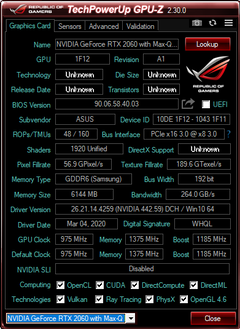 Quietly unveiled at CES 2020, the GeForce RTX 2060 Max-Q has made its retail debut a full year later than its Turing Max-Q siblings. It remains to be seen how OEMs will adopt the GPU as it performs quite closely to the GTX 1660 Ti but with the added benefit of RT and tensor cores.
Nvidia launched its Turing family of Max-Q GPUs last year consisting of the GeForce GTX 1650 Max-Q, GTX 1660 Ti Max-Q, RTX 2070 Max-Q, and the RTX 2080 Max-Q. Curiously missing from the lineup was the GeForce RTX 2060 Max-Q for seemingly no apparent reason. Perhaps Nvidia wanted to push users into buying the full RTX 2060 instead, but in either case, the RTX 2060 Max-Q is finally here.
The first and so far only laptop to sport the RTX 2060 Max-Q is the 14-inch Asus Zephyrus G14. The biggest difference between it and the other RTX 2060 GPUs is its slower memory speed for slower bandwidth overall. In practice, however, the RTX 2060 Max-Q holds no surprises as it performs exactly where it's supposed to be: in between that of the standard GTX 1660 Ti mobile and RTX 2060 mobile according to 3DMark benchmarks. It's a narrow margin, but at least owners can exploit the AI and RT cores of the RTX 2060 Max-Q which are otherwise absent on the GTX 1660 Ti.
See our page on the GeForce RTX 2060 Max-Q to for more technical information and benchmarks.
| | GeForce RTX 2060 Max-Q Mobile | GeForce RTX 2060 Mobile | GeForce RTX 2060 Desktop | GeForce RTX 2060 Super Desktop |
| --- | --- | --- | --- | --- |
| CUDA Cores | 1920 | 1920 | 1920 | 2176 |
| Base/Boost Clock | 975/1285 | 960/1200 | 1365/1680 | 1470/1650 |
| Memory Speed | 11 Gbps | 14 Gbps | 14 Gbps | 14 Gbps |
| VRAM | 6 GB GDDR6 | 6 GB GDDR6 | 6 GB GDDR6 | 8 GB GDDR6 |
| Memory Width | 192-bit | 192-bit | 192-bit | 256-bit |
| Memory Bandwidth | ~264 GB/s | ~355 GB/s | 336 GB/s | 448 GB/s |
| Graphics Card Power (W) | ~65 W (Estimated) | 80 - 90 W | 160 W | 175 W |
3DMark
2560x1440 Port Royal Graphics
KFA2 GeForce RTX 2080 Ti EX


NVIDIA GeForce RTX 2080 Ti (Desktop), R9 3900X

Alienware m17 R2 P41E


NVIDIA GeForce RTX 2080 Max-Q, i9-9980HK

Walmart EVOO Gaming 17


NVIDIA GeForce RTX 2060 Mobile, i7-9750H

Schenker XMG Neo 15 XNE15M19


NVIDIA GeForce RTX 2070 Max-Q, i7-9750H

Asus Zephyrus G14 GA401IV


NVIDIA GeForce RTX 2060 Max-Q, R9 4900HS

HP Gaming Pavilion 15-dk0009ng


NVIDIA GeForce GTX 1660 Ti Max-Q, i7-9750H

2560x1440 Time Spy Graphics
KFA2 GeForce RTX 2080 Ti EX


NVIDIA GeForce RTX 2080 Ti (Desktop), R9 3900X

Alienware m17 R2 P41E


NVIDIA GeForce RTX 2080 Max-Q, i9-9980HK

MSI RTX 2060 Gaming Z 6G


NVIDIA GeForce RTX 2060 (Desktop), R7 2700X

Walmart EVOO Gaming 17


NVIDIA GeForce RTX 2060 Mobile, i7-9750H

Schenker XMG Neo 15 XNE15M19


NVIDIA GeForce RTX 2070 Max-Q, i7-9750H

Asus Zephyrus G14 GA401IV


NVIDIA GeForce RTX 2060 Max-Q, R9 4900HS

Maingear Vector 15


NVIDIA GeForce GTX 1660 Ti Mobile, i7-9750H

HP Gaming Pavilion 15-dk0009ng


NVIDIA GeForce GTX 1660 Ti Max-Q, i7-9750H

MSI Alpha 15 A3DDK


AMD Radeon RX 5500M, R7 3750H

Asus GX531GM (Zephyrus S)


NVIDIA GeForce GTX 1060 Mobile, i7-8750H

Lenovo IdeaPad S740-15IRH


NVIDIA GeForce GTX 1650 Max-Q, i7-9750H

Asus TUF FX705GE-EW096T


NVIDIA GeForce GTX 1050 Ti Mobile, i7-8750H

2560x1440 Time Spy Score
KFA2 GeForce RTX 2080 Ti EX


NVIDIA GeForce RTX 2080 Ti (Desktop), R9 3900X

Alienware m17 R2 P41E


NVIDIA GeForce RTX 2080 Max-Q, i9-9980HK

MSI RTX 2060 Gaming Z 6G


NVIDIA GeForce RTX 2060 (Desktop), R7 2700X

Walmart EVOO Gaming 17


NVIDIA GeForce RTX 2060 Mobile, i7-9750H

Schenker XMG Neo 15 XNE15M19


NVIDIA GeForce RTX 2070 Max-Q, i7-9750H

Asus Zephyrus G14 GA401IV


NVIDIA GeForce RTX 2060 Max-Q, R9 4900HS

Maingear Vector 15


NVIDIA GeForce GTX 1660 Ti Mobile, i7-9750H

HP Gaming Pavilion 15-dk0009ng


NVIDIA GeForce GTX 1660 Ti Max-Q, i7-9750H

MSI Alpha 15 A3DDK


AMD Radeon RX 5500M, R7 3750H

Asus GX531GM (Zephyrus S)


NVIDIA GeForce GTX 1060 Mobile, i7-8750H

Lenovo IdeaPad S740-15IRH


NVIDIA GeForce GTX 1650 Max-Q, i7-9750H

Asus TUF FX705GE-EW096T


NVIDIA GeForce GTX 1050 Ti Mobile, i7-8750H

1920x1080 Fire Strike Graphics
KFA2 GeForce RTX 2080 Ti EX


NVIDIA GeForce RTX 2080 Ti (Desktop), R9 3900X

Alienware m17 R2 P41E


NVIDIA GeForce RTX 2080 Max-Q, i9-9980HK

MSI RTX 2060 Gaming Z 6G


NVIDIA GeForce RTX 2060 (Desktop), R7 2700X

Walmart EVOO Gaming 17


NVIDIA GeForce RTX 2060 Mobile, i7-9750H

Schenker XMG Neo 15 XNE15M19


NVIDIA GeForce RTX 2070 Max-Q, i7-9750H

Asus Zephyrus G14 GA401IV


NVIDIA GeForce RTX 2060 Max-Q, R9 4900HS

Maingear Vector 15


NVIDIA GeForce GTX 1660 Ti Mobile, i7-9750H

HP Gaming Pavilion 15-dk0009ng


NVIDIA GeForce GTX 1660 Ti Max-Q, i7-9750H

MSI Alpha 15 A3DDK


AMD Radeon RX 5500M, R7 3750H

MSI Alpha 15 A3DDK


AMD Radeon RX 5500M, R7 3750H

Asus GX531GM (Zephyrus S)


NVIDIA GeForce GTX 1060 Mobile, i7-8750H

Lenovo IdeaPad S740-15IRH


NVIDIA GeForce GTX 1650 Max-Q, i7-9750H

Asus TUF FX705GE-EW096T


NVIDIA GeForce GTX 1050 Ti Mobile, i7-8750H

1280x720 Cloud Gate Standard Graphics
KFA2 GeForce RTX 2080 Ti EX


NVIDIA GeForce RTX 2080 Ti (Desktop), R9 3900X

Alienware m17 R2 P41E


NVIDIA GeForce RTX 2080 Max-Q, i9-9980HK

Walmart EVOO Gaming 17


NVIDIA GeForce RTX 2060 Mobile, i7-9750H

Schenker XMG Neo 15 XNE15M19


NVIDIA GeForce RTX 2070 Max-Q, i7-9750H

MSI RTX 2060 Gaming Z 6G


NVIDIA GeForce RTX 2060 (Desktop), R7 2700X

Maingear Vector 15


NVIDIA GeForce GTX 1660 Ti Mobile, i7-9750H

HP Gaming Pavilion 15-dk0009ng


NVIDIA GeForce GTX 1660 Ti Max-Q, i7-9750H

Asus GX531GM (Zephyrus S)


NVIDIA GeForce GTX 1060 Mobile, i7-8750H

Asus Zephyrus G14 GA401IV


NVIDIA GeForce RTX 2060 Max-Q, R9 4900HS

MSI Alpha 15 A3DDK


AMD Radeon RX 5500M, R7 3750H

MSI Alpha 15 A3DDK


AMD Radeon RX 5500M, R7 3750H

Asus TUF FX705GE-EW096T


NVIDIA GeForce GTX 1050 Ti Mobile, i7-8750H

Lenovo IdeaPad S740-15IRH


NVIDIA GeForce GTX 1650 Max-Q, i7-9750H
3DMark 11
1280x720 Performance Combined
KFA2 GeForce RTX 2080 Ti EX


NVIDIA GeForce RTX 2080 Ti (Desktop), R9 3900X

Alienware m17 R2 P41E


NVIDIA GeForce RTX 2080 Max-Q, i9-9980HK

MSI RTX 2060 Gaming Z 6G


NVIDIA GeForce RTX 2060 (Desktop), R7 2700X

Asus Zephyrus G14 GA401IV


NVIDIA GeForce RTX 2060 Max-Q, R9 4900HS

Walmart EVOO Gaming 17


NVIDIA GeForce RTX 2060 Mobile, i7-9750H

HP Gaming Pavilion 15-dk0009ng


NVIDIA GeForce GTX 1660 Ti Max-Q, i7-9750H

Maingear Vector 15


NVIDIA GeForce GTX 1660 Ti Mobile, i7-9750H

Schenker XMG Neo 15 XNE15M19


NVIDIA GeForce RTX 2070 Max-Q, i7-9750H

Lenovo IdeaPad S740-15IRH


NVIDIA GeForce GTX 1650 Max-Q, i7-9750H

Asus TUF FX705GE-EW096T


NVIDIA GeForce GTX 1050 Ti Mobile, i7-8750H

MSI Alpha 15 A3DDK


AMD Radeon RX 5500M, R7 3750H

MSI Alpha 15 A3DDK


AMD Radeon RX 5500M, R7 3750H

Asus GX531GM (Zephyrus S)


NVIDIA GeForce GTX 1060 Mobile, i7-8750H

1280x720 Performance GPU
KFA2 GeForce RTX 2080 Ti EX


NVIDIA GeForce RTX 2080 Ti (Desktop), R9 3900X

Alienware m17 R2 P41E


NVIDIA GeForce RTX 2080 Max-Q, i9-9980HK

MSI RTX 2060 Gaming Z 6G


NVIDIA GeForce RTX 2060 (Desktop), R7 2700X

Walmart EVOO Gaming 17


NVIDIA GeForce RTX 2060 Mobile, i7-9750H

Schenker XMG Neo 15 XNE15M19


NVIDIA GeForce RTX 2070 Max-Q, i7-9750H

Asus Zephyrus G14 GA401IV


NVIDIA GeForce RTX 2060 Max-Q, R9 4900HS

Maingear Vector 15


NVIDIA GeForce GTX 1660 Ti Mobile, i7-9750H

MSI Alpha 15 A3DDK


AMD Radeon RX 5500M, R7 3750H

MSI Alpha 15 A3DDK


AMD Radeon RX 5500M, R7 3750H

HP Gaming Pavilion 15-dk0009ng


NVIDIA GeForce GTX 1660 Ti Max-Q, i7-9750H

Asus GX531GM (Zephyrus S)


NVIDIA GeForce GTX 1060 Mobile, i7-8750H

Lenovo IdeaPad S740-15IRH


NVIDIA GeForce GTX 1650 Max-Q, i7-9750H

Asus TUF FX705GE-EW096T


NVIDIA GeForce GTX 1050 Ti Mobile, i7-8750H