After testing over two dozen gaming laptops with the GeForce RTX 2070 Max-Q, the 2020 Razer Blade Pro 17 comes out to be the fastest of them all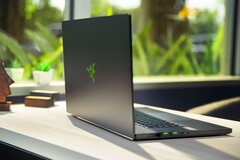 Earlier this year, we compared a whole bunch of GeForce MX150 laptops and found that the 13.3-inch Razer Blade Stealth would run the GPU faster than the rest. This advantage seems to run in the family as we've since discovered something similar with the latest Razer Blade Pro 17. After comparing the 17.3-inch system to every other laptop in our database with the same GeForce RTX 2070 Max-Q GPU, the Razer Blade would come out on top once again.
As shown by our 3DMark comparison charts below between at least 23 different GeForce RTX 2070 Max-Q laptops, GPU scores for the Razer Blade Pro 17 are about 21 percent faster than the average RTX 2070 Max-Q laptop. This includes even the 15.6-inch Razer Blade 15 which runs about 14 to 17 percent slower than its bigger brother. Overall results are therefore within striking distance of the pricier GeForce RTX 2080 Max-Q.
So, what's responsible for the faster-than-average graphics performance? Optimizations between 9th gen Coffee Lake-H and 10th gen Comet Lake-H likely played a part in improving the overall gaming experience between laptops with the same GPU. The bigger factor, however, is more likely down to the higher GPU clock rates on the Blade Pro 17. Running Witcher 3 induces a steady GPU clock rate of 1635 MHz on the Blade Pro 17 compared to 1425 MHz on the Blade 15 or 1320 MHz on the Gigabyte Aero 17. The cooling solution in the Blade Pro 17 is able to squeeze out more juice from the RTX 2070 Max-Q without necessarily needing to run at higher core temperatures.
There are some caveats, however, mainly regarding the raw processor performance of the 8-core Core i7-10875H. More can be found on our review of the system here. Even so, you'll definitely want to add the 2020 Razer Blade Pro 17 to your list if you're in the market for the fastest GeForce RTX 2070 Max-Q laptop money can buy.
3DMark
1920x1080 Fire Strike Graphics
Razer Blade Pro 17 RTX 2070 Max-Q 300 Hz


NVIDIA GeForce RTX 2070 Max-Q, i7-10875H

Schenker XMG Fusion 15 XFU15L19


NVIDIA GeForce RTX 2070 Max-Q, i7-9750H

MSI GS75 10SF-609US


NVIDIA GeForce RTX 2070 Max-Q, i7-10875H

Alienware m15 P79F


NVIDIA GeForce RTX 2070 Max-Q, i7-8750H

Razer Blade 15 RZ09-0328


NVIDIA GeForce RTX 2070 Max-Q, i7-10750H

Razer Blade 15 RTX 2070 Max-Q


NVIDIA GeForce RTX 2070 Max-Q, i7-8750H

Gigabyte Aero 15 OLED XA


NVIDIA GeForce RTX 2070 Max-Q, i7-9750H

Acer Predator Triton 500 PT515-51-71PZ


NVIDIA GeForce RTX 2070 Max-Q, i7-9750H

Gigabyte Aero 15-X9


NVIDIA GeForce RTX 2070 Max-Q, i7-8750H

Average

NVIDIA GeForce RTX 2070 Max-Q


(11563 - 21191, n=31)

Dell G7 17 7790


NVIDIA GeForce RTX 2070 Max-Q, i7-8750H

Schenker XMG Neo 15 XNE15M19


NVIDIA GeForce RTX 2070 Max-Q, i7-9750H

Gigabyte Aero 15 Classic-XA


NVIDIA GeForce RTX 2070 Max-Q, i7-9750H

Schenker XMG Neo 15 Turing


NVIDIA GeForce RTX 2070 Max-Q, i7-8750H

Lenovo Legion Y740-15ICHg


NVIDIA GeForce RTX 2070 Max-Q, i7-9750H

Medion Erazer X15805


NVIDIA GeForce RTX 2070 Max-Q, i9-8950HK

Gigabyte Aero 17 XA RP77


NVIDIA GeForce RTX 2070 Max-Q, i9-9980HK

Dell G5 15 5590-P8RVW


NVIDIA GeForce RTX 2070 Max-Q, i7-9750H

Lenovo Legion Y740-15ICHg


NVIDIA GeForce RTX 2070 Max-Q, i7-8750H

HP Omen X 2S 15-dg0075cl


NVIDIA GeForce RTX 2070 Max-Q, i7-9750H

CUK Model Z GK5CQ7Z


NVIDIA GeForce RTX 2070 Max-Q, i7-9750H

MSI P65 Creator 9SF-657


NVIDIA GeForce RTX 2070 Max-Q, i9-9880H

HP Omen 15-dc1303ng


NVIDIA GeForce RTX 2070 Max-Q, i7-8750H

2560x1440 Time Spy Graphics
Razer Blade Pro 17 RTX 2070 Max-Q 300 Hz


NVIDIA GeForce RTX 2070 Max-Q, i7-10875H

Alienware m15 P79F


NVIDIA GeForce RTX 2070 Max-Q, i7-8750H

MSI GS75 10SF-609US


NVIDIA GeForce RTX 2070 Max-Q, i7-10875H

Lenovo Legion Y740-15ICHg


NVIDIA GeForce RTX 2070 Max-Q, i7-9750H

Acer Predator Triton 500 PT515-51-71PZ


NVIDIA GeForce RTX 2070 Max-Q, i7-9750H

Average

NVIDIA GeForce RTX 2070 Max-Q


(5948 - 8065, n=28)

Razer Blade 15 RTX 2070 Max-Q


NVIDIA GeForce RTX 2070 Max-Q, i7-8750H

Razer Blade 15 RZ09-0328


NVIDIA GeForce RTX 2070 Max-Q, i7-10750H

Gigabyte Aero 15 Classic-XA


NVIDIA GeForce RTX 2070 Max-Q, i7-9750H

Dell G7 17 7790


NVIDIA GeForce RTX 2070 Max-Q, i7-8750H

Gigabyte Aero 15-X9


NVIDIA GeForce RTX 2070 Max-Q, i7-8750H

Gigabyte Aero 15 OLED XA


NVIDIA GeForce RTX 2070 Max-Q, i7-9750H

Dell G5 15 5590-P8RVW


NVIDIA GeForce RTX 2070 Max-Q, i7-9750H

CUK Model Z GK5CQ7Z


NVIDIA GeForce RTX 2070 Max-Q, i7-9750H

Medion Erazer X15805


NVIDIA GeForce RTX 2070 Max-Q, i9-8950HK

Gigabyte Aero 17 XA RP77


NVIDIA GeForce RTX 2070 Max-Q, i9-9980HK

Lenovo Legion Y740-15ICHg


NVIDIA GeForce RTX 2070 Max-Q, i7-8750H

HP Omen X 2S 15-dg0075cl


NVIDIA GeForce RTX 2070 Max-Q, i7-9750H

Schenker XMG Neo 15 XNE15M19


NVIDIA GeForce RTX 2070 Max-Q, i7-9750H

Schenker XMG Neo 15 Turing


NVIDIA GeForce RTX 2070 Max-Q, i7-8750H

2560x1440 Time Spy Score
Razer Blade Pro 17 RTX 2070 Max-Q 300 Hz


NVIDIA GeForce RTX 2070 Max-Q, i7-10875H

MSI GS75 10SF-609US


NVIDIA GeForce RTX 2070 Max-Q, i7-10875H

Alienware m15 P79F


NVIDIA GeForce RTX 2070 Max-Q, i7-8750H

Lenovo Legion Y740-15ICHg


NVIDIA GeForce RTX 2070 Max-Q, i7-9750H

Average

NVIDIA GeForce RTX 2070 Max-Q


(5989 - 8236, n=28)

Gigabyte Aero 17 XA RP77


NVIDIA GeForce RTX 2070 Max-Q, i9-9980HK

Acer Predator Triton 500 PT515-51-71PZ


NVIDIA GeForce RTX 2070 Max-Q, i7-9750H

Gigabyte Aero 15 Classic-XA


NVIDIA GeForce RTX 2070 Max-Q, i7-9750H

CUK Model Z GK5CQ7Z


NVIDIA GeForce RTX 2070 Max-Q, i7-9750H

Dell G5 15 5590-P8RVW


NVIDIA GeForce RTX 2070 Max-Q, i7-9750H

Lenovo Legion Y740-15ICHg


NVIDIA GeForce RTX 2070 Max-Q, i7-8750H

Razer Blade 15 RZ09-0328


NVIDIA GeForce RTX 2070 Max-Q, i7-10750H

Dell G7 17 7790


NVIDIA GeForce RTX 2070 Max-Q, i7-8750H

Gigabyte Aero 15 OLED XA


NVIDIA GeForce RTX 2070 Max-Q, i7-9750H

Medion Erazer X15805


NVIDIA GeForce RTX 2070 Max-Q, i9-8950HK

Gigabyte Aero 15-X9


NVIDIA GeForce RTX 2070 Max-Q, i7-8750H

Razer Blade 15 RTX 2070 Max-Q


NVIDIA GeForce RTX 2070 Max-Q, i7-8750H

Schenker XMG Neo 15 XNE15M19


NVIDIA GeForce RTX 2070 Max-Q, i7-9750H

HP Omen X 2S 15-dg0075cl


NVIDIA GeForce RTX 2070 Max-Q, i7-9750H

Schenker XMG Neo 15 Turing


NVIDIA GeForce RTX 2070 Max-Q, i7-8750H
3DMark 11
1280x720 Performance GPU
Razer Blade Pro 17 RTX 2070 Max-Q 300 Hz


NVIDIA GeForce RTX 2070 Max-Q, i7-10875H

Schenker XMG Fusion 15 XFU15L19


NVIDIA GeForce RTX 2070 Max-Q, i7-9750H

MSI GS75 10SF-609US


NVIDIA GeForce RTX 2070 Max-Q, i7-10875H

Alienware m15 P79F


NVIDIA GeForce RTX 2070 Max-Q, i7-8750H

Razer Blade 15 RZ09-0328


NVIDIA GeForce RTX 2070 Max-Q, i7-10750H

Gigabyte Aero 15 OLED XA


NVIDIA GeForce RTX 2070 Max-Q, i7-9750H

Acer Predator Triton 500 PT515-51-71PZ


NVIDIA GeForce RTX 2070 Max-Q, i7-9750H

Razer Blade 15 RTX 2070 Max-Q


NVIDIA GeForce RTX 2070 Max-Q, i7-8750H

Average

NVIDIA GeForce RTX 2070 Max-Q


(14723 - 27694, n=31)

Dell G7 17 7790


NVIDIA GeForce RTX 2070 Max-Q, i7-8750H

Gigabyte Aero 15-X9


NVIDIA GeForce RTX 2070 Max-Q, i7-8750H

Gigabyte Aero 15 Classic-XA


NVIDIA GeForce RTX 2070 Max-Q, i7-9750H

Lenovo Legion Y740-15ICHg


NVIDIA GeForce RTX 2070 Max-Q, i7-9750H

Schenker XMG Neo 15 XNE15M19


NVIDIA GeForce RTX 2070 Max-Q, i7-9750H

Lenovo Legion Y740-15ICHg


NVIDIA GeForce RTX 2070 Max-Q, i7-8750H

Schenker XMG Neo 15 Turing


NVIDIA GeForce RTX 2070 Max-Q, i7-8750H

Medion Erazer X15805


NVIDIA GeForce RTX 2070 Max-Q, i9-8950HK

Gigabyte Aero 17 XA RP77


NVIDIA GeForce RTX 2070 Max-Q, i9-9980HK

Dell G5 15 5590-P8RVW


NVIDIA GeForce RTX 2070 Max-Q, i7-9750H

CUK Model Z GK5CQ7Z


NVIDIA GeForce RTX 2070 Max-Q, i7-9750H

MSI P65 Creator 9SF-657


NVIDIA GeForce RTX 2070 Max-Q, i9-9880H

HP Omen X 2S 15-dg0075cl


NVIDIA GeForce RTX 2070 Max-Q, i7-9750H

HP Omen 15-dc1303ng


NVIDIA GeForce RTX 2070 Max-Q, i7-8750H

1280x720 Performance Combined
MSI GS75 10SF-609US


NVIDIA GeForce RTX 2070 Max-Q, i7-10875H

MSI P65 Creator 9SF-657


NVIDIA GeForce RTX 2070 Max-Q, i9-9880H

Gigabyte Aero 17 XA RP77


NVIDIA GeForce RTX 2070 Max-Q, i9-9980HK

Razer Blade Pro 17 RTX 2070 Max-Q 300 Hz


NVIDIA GeForce RTX 2070 Max-Q, i7-10875H

Lenovo Legion Y740-15ICHg


NVIDIA GeForce RTX 2070 Max-Q, i7-9750H

CUK Model Z GK5CQ7Z


NVIDIA GeForce RTX 2070 Max-Q, i7-9750H

Medion Erazer X15805


NVIDIA GeForce RTX 2070 Max-Q, i9-8950HK

Average

NVIDIA GeForce RTX 2070 Max-Q


(9107 - 17603, n=30)

HP Omen X 2S 15-dg0075cl


NVIDIA GeForce RTX 2070 Max-Q, i7-9750H

Acer Predator Triton 500 PT515-51-71PZ


NVIDIA GeForce RTX 2070 Max-Q, i7-9750H

Gigabyte Aero 15 OLED XA


NVIDIA GeForce RTX 2070 Max-Q, i7-9750H

Schenker XMG Neo 15 XNE15M19


NVIDIA GeForce RTX 2070 Max-Q, i7-9750H

Schenker XMG Fusion 15 XFU15L19


NVIDIA GeForce RTX 2070 Max-Q, i7-9750H

Dell G5 15 5590-P8RVW


NVIDIA GeForce RTX 2070 Max-Q, i7-9750H

Lenovo Legion Y740-15ICHg


NVIDIA GeForce RTX 2070 Max-Q, i7-8750H

Razer Blade 15 RZ09-0328


NVIDIA GeForce RTX 2070 Max-Q, i7-10750H

Schenker XMG Neo 15 Turing


NVIDIA GeForce RTX 2070 Max-Q, i7-8750H

Gigabyte Aero 15 Classic-XA


NVIDIA GeForce RTX 2070 Max-Q, i7-9750H

Alienware m15 P79F


NVIDIA GeForce RTX 2070 Max-Q, i7-8750H

Razer Blade 15 RTX 2070 Max-Q


NVIDIA GeForce RTX 2070 Max-Q, i7-8750H

HP Omen 15-dc1303ng


NVIDIA GeForce RTX 2070 Max-Q, i7-8750H

Gigabyte Aero 15-X9


NVIDIA GeForce RTX 2070 Max-Q, i7-8750H

Dell G7 17 7790


NVIDIA GeForce RTX 2070 Max-Q, i7-8750H