Intel Pentium Silver N5000 vs Intel Pentium Gold 4415U
Intel Pentium Silver N5000
► remove from comparison

The Intel Pentium Silver N5000 is a quad-core SoC primarily for inexpensive notebooks and was announced late 2017. It runs at 1.1-2.7 GHz (Single Core Burst, Multi Core Burst max. 2.6 GHz) and is based on the Gemini Lake platform. Similar to the Apollo Lake predecessor, the chip is manufactured in a 14 nm process with FinFETs but offers slightly improved processor cores, double the amount of L2 cache, a smaller package, a new generation of monitor outputs (Gen 10) and a partly integrated WiFi chip. Besides four CPU cores, the chip also includes a DirectX 12 capable GPU as well as a DDR4/LPDDR4 memory controller (dual-channel, up to 2400 MHz). The SoC is not replaceable as it is directly soldered to the mainboard.
Architecture
The processor architecture was slightly reworked and is now called Goldmont Plus. It features an increased level 2 cache (to 4 MB). That means the per-clock-performance should be a bit better, but not near the Core CPUs like Kaby Lake Y.
Performance
The CPU performance of the Pentium Silver N5000 is thanks to the slightly revised CPU architecture and the 200 MHz higher boost clock slightly better than the old Pentium N4200 (1.1 - 2.5 GHz). Compared to the more expensive Core Y processors, especially the single thread performance is much lower in the Gemini Lake based SoCs. Still for basic tasks like office suits, webbrowsing with moderate multitasking the processor performance should be fine.
GPU Performance
The UHD Graphics 605 (Gemini Lake) is based on Intel's Gen9 architecture, which supports DirectX 12 and is also used for the Kaby Lake / Skylake / Apollo Lake graphics adapters (like HD Graphics 520). Equipped with 18 EUs and a clock of up to 750 MHz, the performance should be roughly on par with the older HD Graphics 5300 and HD Graphics 505 (Apollo Lake).
The chip also includes an advanced video engine with hardware support for the playback of VP9 and H.265 material (8-bit color-depth).
Power Consumption
Similar to the predecessor, Intel specifies the TDP with 6 Watts (SDP 4.8 Watts – Scenario Design Power). The chip can therefore be cooled passively in theory, but SKUs with fans are possible as well.
Intel Pentium Gold 4415U
► remove from comparison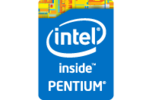 The Intel Pentium 4415U is an ULV (ultra low voltage) dual-core SoC based on the Kaby-Lake architecture and has been launched in the first quarter of 2017. The CPU can be found in ultrabooks as well as normal notebooks. In addition to two CPU cores with Hyper-Threading clocked at 2.3 GHz (no Turbo Boost), the chip also integrates an HD Graphics 610 GPU and a dual-channel DDR4-2133/DDR3L-1600 memory controller. The SoC is manufactured using a 14 nm process with FinFET transistors.
Architecture
Intel basically uses the same micro architecture compared to Skylake, so the per-MHz performance does not differ. The manufacturer only reworked the Speed Shift technology for faster dynamic adjustments of voltages and clocks, and the improved 14nm process allows much higher frequencies combined with better efficiency than before.
Performance
Compared to the more expensive Core i3-7100U, the 4415U offers a similar CPU performance (2.3 versus 2.4 GHz) and less level 3 cache but a slower integrated graphics card. Still, the CPU has sufficient power for office and multimedia purposes as well as somewhat more demanding applications.
Graphics
The integrated graphics unit called HD Graphics 610 (similar to the HD Graphics 510) represents the "GT1" version of the Kaby Lake GPU (Intel Gen. 9). Its 12 Execution Units, also called EUs, are clocked at 300 - 950 MHz and offer a performance somewhat below the older HD Graphics 4400. Only a few games of 2015 can be played smoothly in lowest settings.
Power Consumption
Specified at a TDP of 15 W (including CPU, GPU and memory controller), the CPU is best suited for small notebooks and ultrabooks (11-inches and above). Optionally, the TDP can be lowered to 10 watts (cTDP down), reducing both heat dissipation and performance and allowing even more compact designs.
| | | |
| --- | --- | --- |
| Model | Intel Pentium Silver N5000 | Intel Pentium Gold 4415U |
| Series | Intel Gemini Lake | Intel Kaby Lake |
| Codename | Gemini Lake | Kaby Lake |
| Series: Kaby Lake Kaby Lake | | |
| Clock | 1100 - 2700 MHz | 2300 MHz |
| L1 Cache | 224 KB | 128 KB |
| L2 Cache | 4 MB | 512 KB |
| Cores / Threads | 4 / 4 | 2 / 4 |
| TDP | 6 Watt | 15 Watt |
| Technology | 14 nm | 14 nm |
| max. Temp. | 105 °C | 100 °C |
| Socket | BGA1090 | BGA |
| Features | Intel UHD Graphics 605 (18 EUs, 200 - 750 MHz), QuickSync, AES-NI, max. 8 GB DDR4/LPDDR4-2400 RAM | Dual-Channel LPDDR3-1866/DDR4-2133 Memory Controller, HyperThreading, AVX, AVX2, Quick Sync, Virtualization, AES-NI |
| iGPU | Intel UHD Graphics 605 (200 - 750 MHz) | Intel HD Graphics 610 (300 - 950 MHz) |
| | | |
| Architecture | x86 | x86 |
| | $161 U.S. | $161 U.S. |
| Announced | | |
| Manufacturer | Intel Gemini Lake Pentium N5000 | Intel Kaby Lake Pentium 4415U |
| L3 Cache | | 2 MB |
Benchmarks
Performance Rating
- CB R15 + R20 + 7-Zip + X265 + Blender + 3DM11 CPU
- Pentium N5000