Amazfit's ZenBuds win an iF Design Award in time for World Sleep Day 2020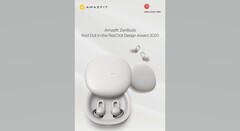 Amazfit has announced that its iF Design Award for the innovative ZenBuds came in during the week of World Sleep Day this year (March 13, 2020). These TWS earbuds, appropriately enough, have been created in order to support improved nightly rest. They do so through an ultra-light and compact build, ANC and stress-busting features.
Huami's increasingly successful wearables brand Amazfit has announced the conferral of a 2020 iF Design Award on its new ZenBuds. These TWS earbuds have been developed to be unobtrusive and light (approximately 3.56g per pair) enough to be worn in bed and, thus, help enhance sleep.
The ZenBuds do this by both blocking noise and playing "soothing" proprietary audio tracks through their Knowles balanced armature-equipped drivers. This may help alleviate tension and promote sleep. They are also rated for 8 to 12 hours of battery life, thus helping ensure they are on for the user all night.
Amazfit has also announced that the ZenBuds also now have a 2020 Red Dot design award, although this presentation was not concurrent with any relevant international event. More on topic, Huami has been able to publish a whole white paper based on the sleep-health data it has been able to collect on Chinese users during 2019.
It has revealed some interesting conclusions, such as that women in this country have better sleep performance (e.g. in terms of sleep duration and sleep latency) on average compared to men. Amazfit has priced the ZenBuds at US$149.90; however, their international releaseare is yet to be determined.