The cloud gaming market is now projected to be worth as much as US$56.57 billion by 2027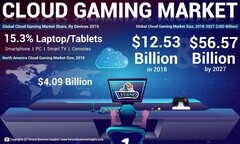 Cloud gaming is an emerging alternative to user-owned PC set-ups, in that the massive amounts of GPU power required to sustain it are accessed remotely. Its market had an estimated value of US$12.53 billion in 2018. However, a new report estimates it could acquire an additional ~$44 billion over the next 7 years.
A new market analysis indicates that the cloud gaming sector could grow at a compound annual growth rate (CAGR) of 15.7% between 2020 and 2027 until it attains a value of just over $56 billion. This is based on factors such as the integration of other technologies such as 5G and extended-reality (XR) platforms into such services.
This study's authors also believes this market will be bolstered by relevant partnerships such as the one between Tencent and NVIDIA in order to drive their respective contributions to this market. To date, it has resulted in initiatives such as the START cloud gaming service.
More recently, Tencent has integrated more of its hardware partner's graphics power through the development of gaming servers designed to connect up to 8 Pascal-based Tesla P100 GPUs using NVLink. This is the first market-specific cloud rig optimized in such a way.
Hopefully, this new facility will offer some assistance to the currently-floundering GeForce NOW platform. Finally, the new report notes that there are other major players in the cloud gaming market, including Intel, Amazon, Google, Ubitus, Sony, and Vortex.