In yet another example of a Core i5 CPU outperforming its pricier Core i7 alternative, the latest 2021 HP Envy 14 shows you don't necessarily have to spend more for a Core i7 to get Core i7-level performance. The Core i5-1135G7 in the HP is up to 27 percent faster than the average i5-1135G7 in our database to be neck-to-neck with the best Core i7-1165G7 options out there.
So, what's HP's secret? According to the manufacturer, the Envy 14 utilizes an IR thermopile sensor alongside an HP Dynamic Power monitor to "create extra headroom and optimize capacity" while allocating power resources between the CPU and GPU more efficiently. The end results are similar to AMD SmartShift in that the CPU can utilize more power when the discrete GPU is otherwise at low utilization. The overall beefier cooling solution, warmer CPU temperatures, and louder fans of the Envy 14 certainly play a part in maximizing the performance of the Core i5 CPU even further as well.
During our Prime95 stress test with the Envy 14, we recorded stable CPU clock rates and temperatures of 3.4 to 3.6 GHz and 80 C, respectively, compared to 3.0 GHz and 70 C in the Lenovo IdeaPad Slim 9i with the "faster" Core i7-1165G7. Consequently, CineBench xT scores would be between 20 to 50 percent higher for the Envy 15 after accounting for any throttling.
Power consumption is also more steady on the HP as a consequence of its high Turbo Boost sustainability. When running Prime95, the Envy 14 would spike to 75 W and drop to only 71 W while the IdeaPad Slim 9i would spike to 62 W and drop to as low as 42 W just 30 seconds later.
See our full review on the HP Envy 14 for more details on its features and performance data.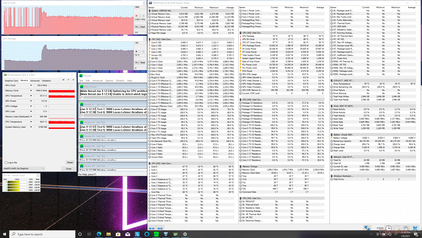 After graduating with a B.S. in environmental hydrodynamics from the University of California, I studied reactor physics to become licensed by the U.S. NRC to operate nuclear reactors. There's a striking level of appreciation you gain for everyday consumer electronics after working with modern nuclear reactivity systems astonishingly powered by computers from the 80s. When I'm not managing day-to-day activities and US review articles on Notebookcheck, you can catch me following the eSports scene and the latest gaming news.