Xiaomi Mi 10T Pro users receive the September 2022 security patch thanks to MIUI 13.0.9 Global Stable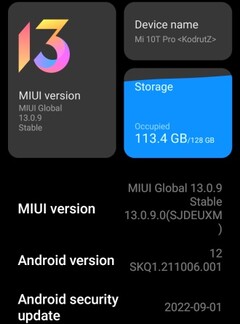 Views, thoughts, and opinions expressed in the text belong solely to the author.
If I were to conduct a long-term review of my Xiaomi Mi 10T Pro, I should highlight the drop in battery life that started after around a year of use. Without much fear of being mistaken, I will say that the cause for going down from over 6 hours SoT to roughly 4 hours combines the battery fatigue with various software problems.
My old Mi A1 still has the original battery and is now being mercilessly tortured by my daughter on a daily basis, and I can't even hope for the one of my Mi 10T Pro to last that long. While MIUI 13.5 might bring some real power optimizations to my phone, the most recent update only arrives with the latest security patch.
The new update became available for my phone earlier today and it has 301 MB in size. Sadly, there's not much to say about it. The label follows the previous pattern, so the patch brings the phone's software version up to 13.0.9.0.SJDEUXM. The Android version is still 12, and the long version number is also unchanged, namely 12 SKQ1.211006.001. Since this is a security refresh, the patch date now says September 1, 2022.
I couldn't fully drain the battery yet, but my screen used over 21 percent in less than two hours, with almost 14 percent going to the updater. Based on these, I can safely assume that MIUI 13.0.9 doesn't come with any noticeable battery life improvements.
Fortunately, the Mi 10T Pro, Mi 10T, and Mi 10T Lite are all (supposedly) eligible to receive the MIUI 14 update. Since this major software update from Xiaomi is scheduled to arrive before the end of the year, there is no information regarding its availability for older handsets such as the three ones mentioned above.
In my early school days, I hated writing and having to make up stories. A decade later, I started to enjoy it. Since then, I published a few offline articles and then I moved to the online space, where I contributed to major websites that are still present online as of 2021 such as Softpedia, Brothersoft, Download3000, but I also wrote for multiple blogs that have disappeared over the years. I've been riding with the Notebookcheck crew since 2013 and I am not planning to leave it anytime soon. In love with good mechanical keyboards, vinyl and tape sound, but also smartphones, streaming services, and digital art.