MIUI 13.0.6 Global Stable brings the April 2022 security patch to Xiaomi Mi 10T Pro users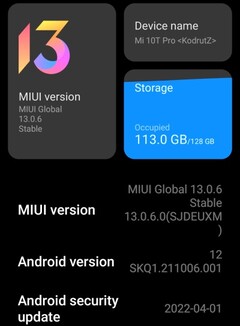 Views, thoughts, and opinions expressed in the text belong solely to the author.
The first update after the long-awaited arrival of the Android 12-based MIUI 13 interface for Xiaomi Mi 10T Pro (and non-Pro) handsets can be easily considered a minor patch, although it looks like the power drain issues that were affecting quite a few users are now gone. Sadly, this is not a fix mentioned in the official description, so you will have to take my word for it (as usual, sharing your personal experience with the update as well is welcome and highly encouraged).
Since I applied the update less than a day ago and I haven't used the phone much since then, I cannot give you any accurate figures regarding the improvements in battery life that come with MIUI 13.0.6. However, to me is clear that battery drain has been reduced. As a side note, I was barely able to get between 4 and 4.5 hours of SoT since the Android 12-based update, no matter if I played some game, listened to music/watched videos on YouTube, or just surfed the internet.
The piece of code that has recently reached my Mi 10T Pro comes with a laconic description, as you can see below, and it appears to be just a minor security update as well. Am I the only one who noticed a sharp drop in battery life (about one hour SoT lost!) after updating to MIUI 13? Hit the comments section and tell us about the battery life of your Xiaomi Mi 10T Pro after it got Android 12/MIUI 13.
Views, thoughts, and opinions expressed in the text belong solely to the author.
In my early school days, I hated writing and having to make up stories. A decade later, I started to enjoy it. Since then, I published a few offline articles and then I moved to the online space, where I contributed to major websites that are still present online as of 2021 such as Softpedia, Brothersoft, Download3000, but I also wrote for multiple blogs that have disappeared over the years. I've been riding with the Notebookcheck crew since 2013 and I am not planning to leave it anytime soon. In love with good mechanical keyboards, vinyl and tape sound, but also smartphones, streaming services, and digital art.