Xiaomi Mi 10T Pro users get the July 2022 security patch via the MIUI 13.0.8 Global Stable update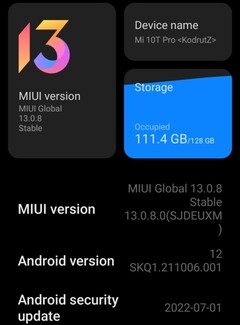 Views, thoughts, and opinions expressed in the text belong solely to the author.
The Xiaomi Mi 10T Pro and non-Pro are still quite capable phones after almost two years on the market, but the upcoming MIUI 13.5 might be the last major official software update for them. However, it is good to see that, after a long period with over a month between updates, Xiaomi is refreshing these phones at least on a monthly basis. Today, the time has come for MIUI 13.0.8.
The new update became available for my phone yesterday evening and it has 265 MB in size. As you can see in the screenshots, there's not much to say about it. The label follows the previous pattern, so the patch pushes the phone's software up to 13.0.8.0.SJDEUXM and the Android version is the same as before, namely 12 SKQ1.211006.001. Obviously, the security patch date now says July 1, 2022.
Last month, I said that it might take a while to figure out if the battery drain is still present. Now, I can confirm it, unfortunately, because no matter what I do, the SoT value barely hits 4 hours. Other than this, I also noticed a few freezes, for example not being able to reply an incoming call that comes in while I browse my notifications. In this case, the only solution is to restart the phone (this happened to me three times in the last month, and it's definitely annoying enough to be worth being mentioned).
Overall, the MIUI 13 on the Xiaomi Mi 10T Pro remains a bearable operating system for me and I can only hope that version 13.5 will give this piece of hardware the justice it deserves. As usualy, the comments section is all yours, so feel free to share your MIUI 13/Xiaomi Mi 10 T Pro (non-Pro)-related thoughs with us.
Views, thoughts, and opinions expressed in the text belong solely to the author.
In my early school days, I hated writing and having to make up stories. A decade later, I started to enjoy it. Since then, I published a few offline articles and then I moved to the online space, where I contributed to major websites that are still present online as of 2021 such as Softpedia, Brothersoft, Download3000, but I also wrote for multiple blogs that have disappeared over the years. I've been riding with the Notebookcheck crew since 2013 and I am not planning to leave it anytime soon. In love with good mechanical keyboards, vinyl and tape sound, but also smartphones, streaming services, and digital art.