MIUI 13 finally hits the Xiaomi Mi 10T Pro, but it's far from perfect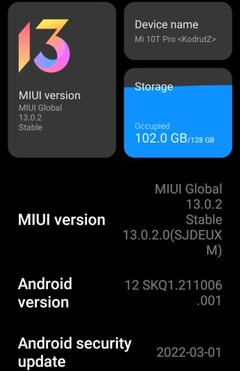 Views, thoughts, and opinions expressed in the text belong solely to the author.
As Android 13 is moving through its first public beta stages, many Android users are still waiting to get Android 12, which currently has a market share of around 10 percent. After a rather long wait, the MIUI 13 update (a global and stable piece of code) is finally reaching Xiaomi Mi 10T Pro handsets across Europe and other areas. As usual, the users should expect a combination of new features and fixes for both the Android 12 core and the MIUI 13 layer on top, but also a combined set of bugs and incompatibilities.
The update from MIUI 12.5.12 to MIUI 13.0.2 has 3.3 GB in size. I received the notification late last night and, fortunately, downloading and installing it took about 30 minutes. Unsurprisingly, the update is labeled MIUI 13.0.2.0.SJDEUXM and the date label of the security patch reads March 1, 2022. According to Xiaomi, MIUI 13 is the fastest Android skin tested until now using the Master Lu benchmark suite. The update allegedly comes with improved multitasking capabilities, as well as some privacy-related features. On the other hand, the piece of code that ended up on my phone does not have all the wallpapers that should be a part of MIUI 13, not to mention that the MIUI 13 widgets present in China are also missing in action (however, the new Android 12 widgets are present, and this makes the update quite confusing).
Overall, the MIUI 13 update that users outside of China are receiving these days feels like a stripped-down version of what Xiaomi promised. However, what troubles me most is how they managed to release the update without making POCO Launcher compatible with it. After all, a few months have passed since Android 12 became available, and no fix arrived yet.
Those who were happy with the default launcher in the past will probably enjoy the update as well. According to the official release notes, apps can be opened as floating windows directly from the sidebar, the Phone-Clock-Weather trio gets enhanced accessibility support, and mind map nodes (if there is anyone creating mind maps on their Xiaomi phones, please drop a comment below and share your thoughts with the rest of us) are now "more convenient and intuitive."
Battery optimization is now more refined, with three predefined settings, namely Save Battery, Balanced, and Performance. The Camera app gets a few new features and improvements, like the ability to turn off the screen after 3 minutes of inactivity when shoot long videos (timelapses, for example) to save power.
In addition to the aforementioned incompatibility with the popular POCO Launcher app, MIUI 13.0.2 also seems to have problems when trying to set Dark Mode for apps individually (in addition to Dark Mode not working on most apps by default, although those apps have not been configured not to use it), some apps seem to load much slower than before, screenshot previews are displayed with a noticeable delay, and there might be others that I haven't been able to discover yet.
Overall, I am a bit disappointed and I would gladly pay a small fee (let's say US$20) to get an official Android 12 (near-)stock ROM from Xiaomi with just a few apps like Mi Remote and Mi Notes on top of Google's suite, as it was the case with the brand's Android One handsets. Am I the only one to think so? Thankfully, there are quite a few ROMs available for the Mi 10T and its Pro sibling, and sooner or later I will take the big step and leave the MIUI world behind.
Views, thoughts, and opinions expressed in the text belong solely to the author.
In my early school days, I hated writing and having to make up stories. A decade later, I started to enjoy it. Since then, I published a few offline articles and then I moved to the online space, where I contributed to major websites that are still present online as of 2021 such as Softpedia, Brothersoft, Download3000, but I also wrote for multiple blogs that have disappeared over the years. I've been riding with the Notebookcheck crew since 2013 and I am not planning to leave it anytime soon. In love with good mechanical keyboards, vinyl and tape sound, but also smartphones, streaming services, and digital art.