After almost a month, MIUI 12.5.6 Enhanced Edition has finally arrived on my Xiaomi Mi 10T Pro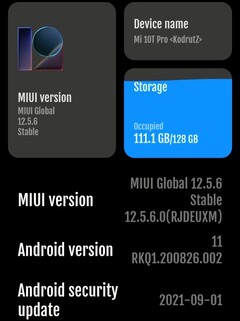 Views, thoughts, and opinions expressed in the text belong solely to the author.
Back in the first days of the month, Xiaomi 10T Pro users all over Europe started to receive the MIUI 12.5.6.0.RJDEUXM update. Sadly, the rollout was very slow and I only got the new firmware on my phone earlier this week. I decided to wait for at least two full charges before sharing my thoughts with you, so now I can finally say that MIUI 12.5.6 Enhanced Edition (almost) makes me feel like I received a brand-new handset.
Without any further ado, these are Xiaomi's promises for this update and my finds:
Swift performance and more life between charges? No complaints here, it is surely easier now to reach two full days of average to intensive use (Bluetooth, NFC, and location are always on), although power-saving seems to be a bit more aggressive than before (maybe it's just me, so feel free to tell me what you think in the comments section).
Focused algorithms? Xiaomi claims that the new dynamic system resources allocation approach offers a smooth(er) experience and I must say that my phone, which recently started to lag in some scenarios, now feels like brand-new. However, this happens with almost no free space left on it, which is definitely an excellent achievement.
Atomized memory, liquid storage, and smart balance? No need to say anything else than two figures: 54 and 40 percent. These are the used memory percentage values after starting the phone/closing all active apps. Xiaomi might have thrown a few marketing hooks here, but one thing is certain: my phone now feels faster (I also ran Geekbench a few times and got scores slightly above average, but I don't think is important).
Now, for the less positive parts...
First, November is knocking and the Mi 10T and its Pro sibling are still on the September security patch. At least offering Android One as an official software option would be a very smart choice for Xiaomi, if updating MIUI more often is not feasible.
Second, and not surprising, it was a bit of a nightmare to tweak the notification settings once again. After installing the update, my display kept lighting up although it was not supposed to do it. Switching on some settings that were off and then back on seems to have done the trick.
Third and last, I still bump into Dark Mode and non-standard font size issues a bit too often.
Thankfully, Xiaomi is already testing the update labeled 12.5.7.0.RJDEUXM and we can only hope that it will arrive promptly. To be honest, if I would have the chance to get an official Android One ROM for my phone, I would drop MIUI in a split-second, although I finally reached the point where I get along with it just fine, at least most of the time. Obviously, the more adventurous ones can already grab one of the custom ROMs present on XDA, especially since some Android 12-based such pieces of code are already available.
Buy the Xiaomi Mi 11i (8/128 GB, International Version) on Amazon
Views, thoughts, and opinions expressed in the text belong solely to the author.
In my early school days, I hated writing and having to make up stories. A decade later, I started to enjoy it. Since then, I published a few offline articles and then I moved to the online space, where I contributed to major websites that are still present online as of 2021 such as Softpedia, Brothersoft, Download3000, but I also wrote for multiple blogs that have disappeared over the years. I've been riding with the Notebookcheck crew since 2013 and I am not planning to leave it anytime soon. In love with good mechanical keyboards, vinyl and tape sound, but also smartphones, streaming services, and digital art.