War Thunder 1.97 "Viking Fury" is live: full Swedish ground tech tree, two new locations, and more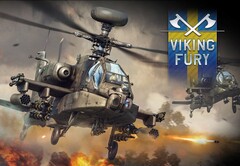 Released earlier today, War Thunder 1.97 "Viking Fury" is the game's first major update of the year and comes with a full Swedish ground forces tech tree, over 20 new ships, ground vehicles, helos and aircraft for other nations, two new locations, as well as multiple bug fixes and under-the-hood improvements.
It might have taken them a while, but Gaijin has finally managed to release the first major update of the year for War Thunder and it definitely looks good. The successor of "Northern Wind" is an update that focuses on the same nation and comes with a full ground tech tree for Sweden. Obviously, the other nations get some new military hardware as well, but the list of changes included in War Thunder 1.97 "Viking Fury" does not stop here.
As it always happened when a new tech tree was introduced in War Thunder, those who want to play the regular Swedish tanks and research new vehicles can buy a premium pack right away or complete various missions to get unlimited access to the Swedish Ground Forces Closed Beta Test. This time, the premium packs start at 19.99 USD/EUR and the missions will be available until the 24th of April.
Each day, those looking to get free access to the aforementioned tech tree should obtain five victories in ground battles with a game activity of 70% or higher in tier III vehicles (or higher). The daily tasks will be updated each day at 11:00 GMT, and only 12 stars are required to get access to the regular Swedish tanks.
Leaving aside the Swedish ground forces, we should also mention that War Thunder 1.97 comes with two new locations (Denmark and Sweden), a few iconic helicopters (the American AH-64 Apache and the Russian Kamov Ka-29 and Ka-52), as well as over 20 other vehicles, ships, and aircraft.
In addition to the above, the latest update to War Thunder fixes some known bugs, introduces new onboard aviation systems such as flares, a ground target search radar, a ballistic calculator, a multifunction control menu (default key is "Y"), improved visual effects, and more. The full changelog is available on this page.