War Thunder 1.91 "Night Vision" goes live with more modern jets, Chinese hardware, a new tone mapping system, and more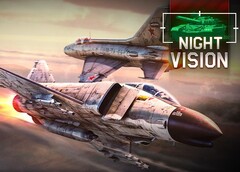 The latest major update to War Thunder comes with Chinese ground and air tech trees for a total of no less than 38 new pieces of military hardware, as well as 8 helicopters, 12 aircraft, 11 ships, and 7 ground vehicles for other nations. The list of changes also includes a few new locations and missions, thermal sights and night vision devices, a map rotation filter, and more.
War Thunder 1.91 is now live and this new update is one of the most radical the game has received so far. However, the new release — suggestively called "Night Vision" — brings more to the table than just new vehicles, locations, and the usual tweaks and fixes.
In addition to the above, there is also the usual amount of bug fixes, tweaks, and optimizations. All in all, this is the most interesting update the game has received in a long time. Now, Gaijin Entertainment only needs to take the battle rating/matchmaking systems very seriously and fix all the problems that the community has been complaining about for ages.
What do you think about War Thunder 1.91 "Night Vision" and the changes it brings? Is this title on the right path or not? Just be sure to stay on topic and avoid pointless "this is a paid article" comments — this article has not been sponsored by Gaijin in any way.