The GeForce MX450 looks set to offer tremendous gains over the Intel Iris Xe and AMD Radeon RX Vega series after limping through the disappointing GeForce MX250 and MX350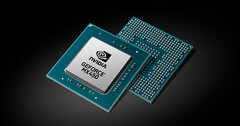 The three-year old GeForce MX150 was a milestone for Nvidia's ULV lineup of mobile MX GPUs. In contrast to its immediate predecessor the GeForce 940MX, the MX150 revamped the entire architecture from Maxwell to Pascal for a tremendous boost in raw graphics performance and performance-per-watt. When at its best, it was able to run games just 10 to 15 percent slower than the popular GeForce 960M but at a fraction of the TDP (25 W vs 60 W). No integrated GPUs from Intel or AMD were able to the touch the MX150 at the time of its launch.
The succeeding GeForce MX250 and MX350 series, however, have proven to be just minor clock rate updates to the older MX150. In fact, the changes have been so small that some MX150 laptops could even outperform those running on the newer MX250. The marginal gains have allowed both Intel and AMD to catch up in graphics performance with their own integrated Iris and Radeon Vega solutions, respectively. Tiger Lake Xe and the Renoir Radeon Vega 8, for example, have matched or outperformed the MX150 without needing to rely on discrete GPUs.
The performance pendulum will soon sway heavily towards Nvidia again when the GeForce MX450 becomes available hopefully by the end of the year. The chipmaker will finally update the aging Pascal architecture of the MX150/250/350 series to Turing which will handily outperform the latest integrated Xe G7 or Radeon Vega GPUs from Intel or AMD. According to our first benchmarks from an early MX450 unit, the chip should be able to offer a performance level much closer to the GeForce GTX 1050 but at the same ~25 W TDP envelope of previous GeForce MX GPUs.
Users looking to maximize graphics performance from their next Ultrabook purchase may want to consider waiting for systems with the GeForce MX450 because it is set to provide one of the largest GPU gains for subnotebooks since the launch of the MX150.
3DMark
1920x1080 Fire Strike Graphics
Razer Blade Stealth Core i7 GTX 1650 Ti Max-Q 4K


NVIDIA GeForce GTX 1650 Ti Max-Q, i7-1065G7

HP Pavilion Gaming 15-ec0002ng


NVIDIA GeForce GTX 1050 Mobile, R5 3550H

Average

NVIDIA GeForce MX450


(4336 - 5753, n=16)

Average

Intel Iris Xe Graphics G7 96EUs


(2901 - 5909, n=101)

Lenovo Yoga Slim 7-14IIL05


NVIDIA GeForce MX350, i7-1065G7

Lenovo Yoga Slim 7-14ARE


AMD Radeon RX Vega 8 (Ryzen 4000), R7 4800U

Razer Blade Stealth i7-8565U


NVIDIA GeForce MX150, i7-8565U

Asus VivoBook Flip 14 TM420IA


AMD Radeon RX Vega 7, R7 4700U

Asus ZenBook 13 UX325JA


Intel Iris Plus Graphics G7 (Ice Lake 64 EU), i7-1065G7

Asus ZenBook 14 UX434FL-DB77


NVIDIA GeForce MX250, i7-8565U

Lenovo IdeaPad 5 14ARE05


AMD Radeon RX Vega 6 (Ryzen 4000/5000), R5 4500U

Honor Magicbook 14


AMD Radeon RX Vega 8 (Ryzen 2000/3000), R5 3500U

Average

Intel Iris Plus Graphics G7 (Ice Lake 64 EU)


(1418 - 3156, n=26)

Acer Swift 3 SF314-42-R27B


AMD Radeon RX Vega 5, R3 4300U

2560x1440 Time Spy Graphics
Razer Blade Stealth Core i7 GTX 1650 Ti Max-Q 4K


NVIDIA GeForce GTX 1650 Ti Max-Q, i7-1065G7

HP Pavilion Gaming 15-ec0002ng


NVIDIA GeForce GTX 1050 Mobile, R5 3550H

Average

NVIDIA GeForce MX450


(1086 - 2300, n=15)

Average

Intel Iris Xe Graphics G7 96EUs


(783 - 1819, n=99)

Lenovo Yoga Slim 7-14IIL05


NVIDIA GeForce MX350, i7-1065G7

Lenovo Yoga Slim 7-14ARE


AMD Radeon RX Vega 8 (Ryzen 4000), R7 4800U

Razer Blade Stealth i7-8565U


NVIDIA GeForce MX150, i7-8565U

Asus VivoBook Flip 14 TM420IA


AMD Radeon RX Vega 7, R7 4700U

Asus ZenBook 14 UX434FL-DB77


NVIDIA GeForce MX250, i7-8565U

Lenovo IdeaPad 5 14ARE05


AMD Radeon RX Vega 6 (Ryzen 4000/5000), R5 4500U

Honor Magicbook 14


AMD Radeon RX Vega 8 (Ryzen 2000/3000), R5 3500U

Asus ZenBook 13 UX325JA


Intel Iris Plus Graphics G7 (Ice Lake 64 EU), i7-1065G7

Average

Intel Iris Plus Graphics G7 (Ice Lake 64 EU)


(526 - 851, n=23)

Acer Swift 3 SF314-42-R27B


AMD Radeon RX Vega 5, R3 4300U

2560x1440 Time Spy Score
Razer Blade Stealth Core i7 GTX 1650 Ti Max-Q 4K


NVIDIA GeForce GTX 1650 Ti Max-Q, i7-1065G7

HP Pavilion Gaming 15-ec0002ng


NVIDIA GeForce GTX 1050 Mobile, R5 3550H

Average

NVIDIA GeForce MX450


(1204 - 2586, n=15)

Average

Intel Iris Xe Graphics G7 96EUs


(880 - 2029, n=97)

Lenovo Yoga Slim 7-14IIL05


NVIDIA GeForce MX350, i7-1065G7

Lenovo Yoga Slim 7-14ARE


AMD Radeon RX Vega 8 (Ryzen 4000), R7 4800U

Razer Blade Stealth i7-8565U


NVIDIA GeForce MX150, i7-8565U

Asus VivoBook Flip 14 TM420IA


AMD Radeon RX Vega 7, R7 4700U

Asus ZenBook 14 UX434FL-DB77


NVIDIA GeForce MX250, i7-8565U

Lenovo IdeaPad 5 14ARE05


AMD Radeon RX Vega 6 (Ryzen 4000/5000), R5 4500U

Asus ZenBook 13 UX325JA


Intel Iris Plus Graphics G7 (Ice Lake 64 EU), i7-1065G7

Honor Magicbook 14


AMD Radeon RX Vega 8 (Ryzen 2000/3000), R5 3500U

Average

Intel Iris Plus Graphics G7 (Ice Lake 64 EU)


(587 - 963, n=23)

Acer Swift 3 SF314-42-R27B


AMD Radeon RX Vega 5, R3 4300U
3DMark 11
1280x720 Performance GPU
Razer Blade Stealth Core i7 GTX 1650 Ti Max-Q 4K


NVIDIA GeForce GTX 1650 Ti Max-Q, i7-1065G7

HP Pavilion Gaming 15-ec0002ng


NVIDIA GeForce GTX 1050 Mobile, R5 3550H

Average

NVIDIA GeForce MX450


(6341 - 9580, n=15)

Average

Intel Iris Xe Graphics G7 96EUs


(2942 - 7115, n=91)

Lenovo Yoga Slim 7-14IIL05


NVIDIA GeForce MX350, i7-1065G7

Lenovo Yoga Slim 7-14ARE


AMD Radeon RX Vega 8 (Ryzen 4000), R7 4800U

Asus VivoBook Flip 14 TM420IA


AMD Radeon RX Vega 7, R7 4700U

Razer Blade Stealth i7-8565U


NVIDIA GeForce MX150, i7-8565U

Lenovo IdeaPad 5 14ARE05


AMD Radeon RX Vega 6 (Ryzen 4000/5000), R5 4500U

Asus ZenBook 13 UX325JA


Intel Iris Plus Graphics G7 (Ice Lake 64 EU), i7-1065G7

Average

Intel Iris Plus Graphics G7 (Ice Lake 64 EU)


(2112 - 4630, n=28)

Honor Magicbook 14


AMD Radeon RX Vega 8 (Ryzen 2000/3000), R5 3500U

Asus ZenBook 14 UX434FL-DB77


NVIDIA GeForce MX250, i7-8565U

Acer Swift 3 SF314-42-R27B


AMD Radeon RX Vega 5, R3 4300U

1280x720 Performance Combined
Razer Blade Stealth Core i7 GTX 1650 Ti Max-Q 4K


NVIDIA GeForce GTX 1650 Ti Max-Q, i7-1065G7

HP Pavilion Gaming 15-ec0002ng


NVIDIA GeForce GTX 1050 Mobile, R5 3550H

Average

NVIDIA GeForce MX450


(4915 - 7419, n=14)

Average

Intel Iris Xe Graphics G7 96EUs


(2143 - 7160, n=90)

Lenovo Yoga Slim 7-14IIL05


NVIDIA GeForce MX350, i7-1065G7

Razer Blade Stealth i7-8565U


NVIDIA GeForce MX150, i7-8565U

Lenovo Yoga Slim 7-14ARE


AMD Radeon RX Vega 8 (Ryzen 4000), R7 4800U

Asus ZenBook 14 UX434FL-DB77


NVIDIA GeForce MX250, i7-8565U

Lenovo IdeaPad 5 14ARE05


AMD Radeon RX Vega 6 (Ryzen 4000/5000), R5 4500U

Asus ZenBook 13 UX325JA


Intel Iris Plus Graphics G7 (Ice Lake 64 EU), i7-1065G7

Asus VivoBook Flip 14 TM420IA


AMD Radeon RX Vega 7, R7 4700U

Acer Swift 3 SF314-42-R27B


AMD Radeon RX Vega 5, R3 4300U

Average

Intel Iris Plus Graphics G7 (Ice Lake 64 EU)


(1319 - 4163, n=28)

Honor Magicbook 14


AMD Radeon RX Vega 8 (Ryzen 2000/3000), R5 3500U