While it was already known that Intel is preparing a discrete Xe GPU known as Iris Xe Max (codename DG1), it was only recently that we happened to see it feature in laptops such as the Asus Vivobook Flip 14 followed by the Acer Swift 3X. We also get to hear that the upcoming Dell Inspiron 15 7000 2-in-1 will also feature the Xe Max. Intel, today, offered more information about the Iris Xe Max dGPU and how it works together with the Xe iGPU already present on the Tiger Lake processor.
Comparing Xe iGPU and Xe Max dGPU
The Iris Xe Max dGPU is essentially the same chip as the iGPU. However, there are some obvious differences with respect to clocks and memory. Unlike the Xe iGPU that is available in 48 and 96 execution units (EUs) variants, Xe Max will be a 96 EU part only. Xe iGPU has a maximum boost of up to 1.35 GHz while Xe Max can boost up to 1.65 GHz.
Also, the Xe iGPU shares system memory whereas Xe Max comes with its own 4 GB of VRAM that has a bandwidth of 68 GB/s. Interestingly, the Xe Max uses dedicated LPDDR4X RAM, which is the same type of main system memory leveraged by the Xe iGPU making it easy for synergized workload sharing via Deep Link, which we will come to shortly.

Bringing it all together via Intel Deep Link
The possibility of Intel working towards a multi-GPU platform that integrates the iGPU and dGPU first came to light last year when we saw such a feature being mentioned in Linux kernel driver patches. Now, we get to see that Intel did manage to leverage the power of both the Xe parts. While this indeed offers added advantages in certain workloads and power sharing, Intel is not using or pitching this technology for games as an SLI-esque setup. Intel's view is that combing the power of Xe iGPU and dGPU can help with added AI capabilities and much reduced video encoding times. Intel is calling the common software framework that enables these scenarios as Deep Link.
According to Intel, Deep Link enables inferencing and rendering on both the Xe GPUs simultaneously for accelerated AI and encoding workloads. Harnessing Deep Link will require developer support via Intel's oneAPI toolkits. Interested developers can sign up here. As of today, applications that support Deep Link features use the Intel Media SDK, Intel OpenVINO toolkit, and the VTune Profiler.

Dynamic Power Share
Dynamic Power Share is Intel speak for NVIDIA Max-Q Dynamic Boost and AMD SmartShift. It is essentially a method of intelligently sharing power and load balancing between the total Tiger Lake package and the Xe Max dGPU. According to Intel, Dyanmic Power Share enables a higher relative performance compared to a standalone 28 W CPU or a notebook with NVIDIA GeForce MX350 graphics in workloads as Adobe Lightroom or Handbrake encode.
How Dynamic Power Share works?
Unfortunately, Intel didn't delve too deep into how this technology works. For instance, we didn't get much information on how Dynamic Power Share is different from similar implementations from NVIDIA and AMD. We also didn't get any confirmation on the laptop's TDP configuration to properly utilize this feature. However, we could arrive at a few speculative inferences.
Remember the Tiger Lake naming conundrum in which we pointed out how a Core i7-1185G7 can supposedly be configured by OEMs to actually perform worse than a Core i7-1165G7? Though Intel wasn't explicit in detailing this, it appears that an Xe Max laptop does mean a Tiger Lake chip configurations with at least 28 W cTDP.
We, however, did get an indication that Xe Max will be part of "35 W-class" Tiger Lake laptops. In fact, Intel's test system specifications (see slide below) indicate that the Swift 3X with a Core i7-1165G7 was running at a PL1 of 30 W. Our speculation is that the added 2 W headroom is for the Xe Max. So, in a 35 W system, 28 W could be for the Tiger Lake package and 7 W for the Xe Max dGPU.
It is likely that a majority of the power is allocated to the Tiger Lake package and then shared intelligently with Xe Max via Dynamic Power Share. This not only helps OEMs design better cooling but also prevents unnecessary power loss on battery. Again, this is our takeaway from discussions with Intel. Hopefully, we will get to know the full picture once we get our hands on Xe Max-powered Tiger Lake notebooks.

Deep Link for AI, video encode faster an RTX 2080
AI inferencing at the edge and video encoding are being projected as the primary use cases for the Intel Iris Xe Max dGPU. Intel showed off a Topaz Labs Gigapixel AI photo upscale demo in which 20 JPEG files of mixed resolutions were upscaled from 1.4 MP to 23 MP in batches of seven photos. In Intel's demo, we see the combination of Xe Max with Xe iGPU in Core i7-1165G7 complete the task 7x faster compared to an Ice Lake Core i7-1065G7 with a GeForce MX350.
Intel also demonstrated a scenario in which 10 one minute clips were transcoded from 4K60 AVC to 1080p60 HEVC in Handbrake. The Xe Max and Xe iGPU combination could finish the task 1.78x faster than even a high-end gaming notebook powered by the Core i9-10980HK and the NVIDIA GeForce RTX 2080, which is impressive considering the small size and low power requirements of the Xe Max and Tiger Lake combination.

It may be noted here that while Intel shows Deep Link utilizing four media encoders (two from each GPU) on a single stream, the company did clarify that the current implementation allows using only two encoders at a time. The ability to use all four encoders will arrive sometime in H1 2021.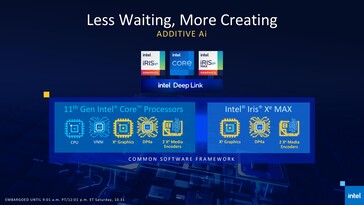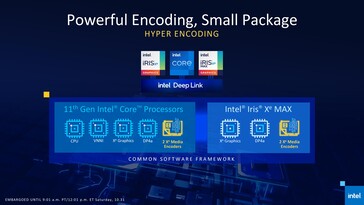 Iris Xe Max for gaming — Not always better than Xe iGPU
Intel did show off some gaming benchmarks at 1080p in which the Xe Max demonstrated much improved performance over the GeForce MX350 in a handful of titles while equalizing in the others. However, the MX350 did have an edge in Borderlands 3 and an ever so slight lead in Gears Tactics.
While it would have been great in theory if Deep Link enabled synergy between the Xe iGPU and Xe Max in an SLI-type fashion, past bad experiences that NVIDIA and AMD faced with such implementations in asymmetric GPU scenarios could have prompted Intel to not consider such a functionality. SLI and CrossFire are being gradually shunned by GPU majors, at least for gaming.

So, this begets the question as to how the system allocates resources for games. As we can see in Intel's own slides below, Xe Max provided some benefit in Metro Exodus whereas the Xe iGPU was much faster in DOTA 2.
Intel told us that the driver decides which of the GPUs are best suited for maximum performance in a particular title a la NVIDIA Optimus. It is possible that heavily CPU-bound titles will find benefit in using the Xe iGPU compared to using the Xe Max.

Intel's first step into the world of discrete graphics — Soon on desktops too
The Xe Max is Intel's first dGPU implementation (not counting and as such seems to be benefit mobile content creators more than anybody else despite it being leveraged only in a handful of programs currently. Intel says that soon, Xe Max and consequently, Xe-HPG DG2 will also support workflows involving CyberLink, Blender, Fluendo, and MAGIX. Intel also confirmed that Xe Max will also make it to value OEM desktops as PCIe cards in H1 2021. Xe-LP based server GPUs are slated to ship this year while Xe-HP and Xe-HPG will see the light of the day in 2021.
For now, Xe Max laptops are limited to just three offerings — the Acer Swift 3X, Asus VivoBook TP470, and the Dell Inspiron 15 7000 2-in-1. Users who buy a qualifying Intel Tiger Lake-powered laptop can avail a software bonus bundle worth US$500 that includes Fortnite, CyberLink PhotoDirector 365, and others. Buyers of Xe Max-powered laptops stand to avail an Xe Max bundle that includes Gears Tactics, Topaz Gigapixel AI tools, and other software valued more than US$250.

Though a cell and molecular biologist by training, I have been drawn towards computers from a very young age ever since I got my first PC in 1998. My passion for technology grew quite exponentially with the times, and it has been an incredible experience from being a much solicited source for tech advice and troubleshooting among family and friends to joining Notebookcheck in 2017 as a professional tech journalist. Now, I am a Lead Editor at Notebookcheck covering news and reviews encompassing a wide gamut of the technology landscape for Indian and global audiences. When I am not hunting for the next big story or taking complex measurements for reviews, you can find me unwinding to a nice read, listening to some soulful music, or trying out a new game.