Earlier this year, we exclusively reported on NVIDIA's plans to launch a Turing-based GeForce MX350 successor. Recently, NVIDIA officially unveiled this GPU called the GeForce MX450 but did not detail any specifications. Now, we are getting to know from preliminary benchmarks that the MX450 is about 33.5% faster than the MX350 in gaming.
From what we know so far, the GeForce MX450 (N18S-G5 series) is a TU117 (GTX 1650) GPU with 64-bit memory and PCIe Gen 4 support. The MX450 is slated to be available in both GDDR5 and GDDR6 memory variants with 896 CUDA cores and a TDP between 25 to 28.5 W. With such specs, the MX450 should be able to pose some tough competition to the upcoming Intel Tiger Lake Xe LP GPUs.
For more information about different N18S-G5 MX450 variants including known clocks, memory frequencies, and TDPs check out our dedicated NVIDIA GeForce MX450 page.
The presence of these variants is to maximize the use of the existing GTX 1650 or MX350 boards enabling OEMs an easy upgrade path to the MX450. In fact, the "top version" of the MX450 (N18S-G5-B-GBD-128) rated at 28.5 W TDP is basically the same as the GTX 1650 and can be used as long as the laptop chassis can efficiently dissipate all that heat. The regular 25 W version (N18S-G5-GB2E-64) can share the same board as the MX150/MX250/MX350 to save R&D costs but to do so, it needs to use GDDR5 memory.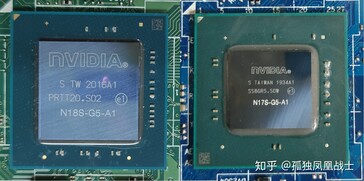 Chinese website Zhuanlan could perform a few synthetic and gaming benchmarks to see how the MX450 fares in comparison with the competition particularly with the MX350, Vega 8 (Ryzen 9 4900H), and the Iris Plus Graphics G7 (Core i7-1065G7) among others. Zhuanlan notes that the memory has been artificially limited to GDDR6 speeds.
Zuhanlan tested three titles at 1080p on the MX450 test system — Left 4 Dead 2 (highest), The Witcher 3 (medium), and Watch Dogs 2 (low). In gaming, the MX450 shows about 33.5% better performance than the MX350. Overclocking the memory to 13 Gbps offers 74 fps in Watch Dogs 2 and 48 fps in The Witcher 3.

Below is a comparison of 3DMark results of the MX450 from Zhuanlan with what we already know about Tiger Lake Iris Xe Graphics G7 with 96 EUs.

From the preliminary benchmarks, it appears that the MX450 does offer a fairly significant advantage over the MX350 — we see about 33.5% higher scores in gaming. Though the MX450 is essentially a TU117 GTX 1650, it suffers nearly a 37% performance penalty due to restricted memory bandwidth (64-bit instead of 128-bit) and reduced raster operators (ROPs; 16 vs 32 in the GTX 1650). A good portion of the performance loss appears to be recoverable by overclocking the memory to 13 Gbps, but most laptop users are unlikely to do so keeping battery life in mind.
Zhuanlan also notes that the MX450 does have higher power consumption. In The Witcher 3, the average power consumption was between 30.5 and 31.3 W and was found to exceed even that of the GTX 1650 Max-Q (28.5 W).

Check out Zhuanlan's full review at the Source link below. We will, of course, be doing our own set of reviews as soon as MX450-powered laptops become available, so stay tuned.

Though a cell and molecular biologist by training, I have been drawn towards computers from a very young age ever since I got my first PC in 1998. My passion for technology grew quite exponentially with the times, and it has been an incredible experience from being a much solicited source for tech advice and troubleshooting among family and friends to joining Notebookcheck in 2017 as a professional tech journalist. Now, I am a Lead Editor at Notebookcheck covering news and reviews encompassing a wide gamut of the technology landscape for Indian and global audiences. When I am not hunting for the next big story or taking complex measurements for reviews, you can find me unwinding to a nice read, listening to some soulful music, or trying out a new game.