The [email protected] project gains CUDA support, potentially speeding it up on NVIDIA GPUs by about 30%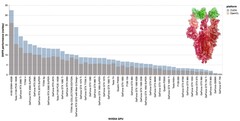 [email protected] (FAH) has produced software that allows huge numbers of users to dedicate some of their PC's power to the computational analysis of protein structure. As with many similar tasks, this is GPU-intensive. The project has been getting by on the OpenCL platform thus far. Now, however, it may be able to get more out of participating NVIDIA cards by harnessing their CUDA cores instead.
The project team estimates that this switch may improve the rate at which they generate data points per day by about 60% - although this upper limit generally applies to older cards such as the GTX 660. However, it may translate into gains of 15-30% for the average GPU.
FAH's work now also feeds into the analogous COVID Moonshot project, which is currently working on finding the candidate drug that best inhibits the SARS-CoV-2 main viral protease. NVIDIA GPUs can now crunch numbers that go towards this goal at rates of 50 to 100% faster compared to older versions of this software. The update that adopts CUDA support should take over seamlessly without input from contributors.
I became a professional writer and editor shortly after graduation. My degrees are in biomedical sciences; however, they led to some experience in the biotech area, which convinced me of its potential to revolutionize our health, environment and lives in general. This developed into an all-consuming interest in more aspects of tech over time: I can never write enough on the latest electronics, gadgets and innovations. My other interests include imaging, astronomy, and streaming all the things. Oh, and coffee.