AMD Athlon Silver 3050e vs Intel Celeron N5095 vs AMD Ryzen 3 PRO 2200U
AMD Athlon Silver 3050e
► remove from comparison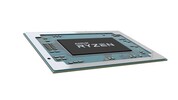 The AMD Athlon Silver 3050e (Codename Dali) is a mobile APU that integrates two Zen cores (with SMT, therefore 4 threads) clocked at 1.4 to 2.8 GHz. The TDP is specified at 6 Watt and therefore the chip can be passively cooled. The integrated Radeon graphics card offers 3 CUs at up to 1000 MHz (Radeon RX Vega 3). The dual channel memory controller supports only DDR4-2400. The chip is manufactured on a 14 nm node and officially counted to the 3000 series of mobile processors.
The AMD Athlon Silver 3050e is the fastest 6W CPU of the Dali SoCs. The slower AMD 3015e and 3020e range below and are compared to the Celeron N4120. Therefore, the Athlon 3050e should reach a level of a Pentium N5000 and therefore still positioned in the entry level of CPUs in 2020. It is best suited for light tasks.
More information on Raven Ridge can be found in our launch article.
Power consumption
Much like Intel's N-class Celeron and Pentium processors, AMD's 3050e has a 6 W TDP (also known as the long-term power limit). This CPU is built on a 14 nm process making for subpar energy efficiency.
Intel Celeron N5095
► remove from comparison

The Intel Celeron N5095 is a quad-core SoC of the Jasper Lake product family designed for use in affordable SFF desktops and laptops. The Celeron was announced in early 2021. It features four Tremont CPU cores running at 2 GHz (base clock speed) Boosting up to 2.9 GHz (single-core Boost) with 1.5 MB of L2 and 4 MB of L3 cache but no thread-doubling Hyper-Threading technology. This processor is manufactured on Intel's first-gen 10 nm process to be not unlike the Ice Lake-U Core-series processors. The faster Celeron N5105 is notable for being more energy efficient (10 W TDP vs N5095's 15 W) yet featuring a faster iGPU model (24 EU UHD Graphics versus 16 EU UHD Graphics, with a higher clock rate to boot).
Architecture
Tremont architecture brings many improvements over the outgoing Goldmont architecture we know from Pentium N5030 and so many other N-class CPUs. According to Intel, the new architecture brings a 30% boost in single thread performance (+10% to +80% in SPECint and SPECfp depending on the test).
While the older N-class Celerons and Pentiums had to be content with up to 8 GB of DDR4-2400 RAM, Celeron N5095 is officially compatible with up to 16 GB of dual-channel DDR4-2933 or quad-channel LPDDR4x-2933 memory. Wi-Fi 6 (Gig+) support is partially baked into the chip. The Celeron supports up to 8 PCI-Express 3.0 lanes, up to 14 USB 3.2 ports and up to two SATA III ports. Four PCI-Express 3.0 lanes allow for read/write rates of up to 3.9 GB/s, provided a suitably fast NVMe SSD is used.
Jasper Lake processor package is larger compared to what Gemini Lake models had (35 x 24 mm vs. 25 x 24 mm). Please note that the Celeron gets soldered on to the motherboard (BGA1338 socket interface) and is thus not user-replaceable.
Performance
The average N5095 in our database matches Intel Core i3-10110U, Core i3-1005G1, Celeron N5105 and AMD Ryzen 3 3200U, as far as multi-thread performance is concerned.
Even if the cooling system is great and the Power Limits are high as the sky, some slight architectural improvements together with the updated manufacturing node and higher-than-usual wattage of the Celeron are not nearly enough to let it compete with modern Core and Ryzen-series processors. It's a good option for basic day-to-day tasks, but anything beyond that will be a struggle.
Graphics
The CPU features the DirectX 12-capable 16 EU UHD Graphics iGPU running at 450 MHz to 750 MHz. The graphics adapter is capable of driving up to 3 displays with resolutions up to [email protected]; it will happily decode HEVC, AVC, VP9, MPEG-2 and other popular video codecs. The latest AV1 codec is not supported, though. (You can still play such a video but it will be software-decoded rather than hardware-decoded which puts a hard limit on the watchable resolution as the CPU cores are not very fast here.)
This is not a gaming GPU by any stretch of imagination. It is just as fast as an HD Graphics 515; it will let you play the least demanding titles (like Dota 2 Reborn) provided you are OK with 720p resolution and lowest quality preset possible.
Power Consumption
Most N-class Celerons and Pentiums have a 6 W TDP (also known as the Power Limit 1). Celeron N5095 on the other hand has a 15 Watt TDP to mimic much faster U-class Core i3/i5/i7 processors. Long-term performance sustainability is therefore destined to be an issue in passively cooled setups which might make the CPU unpopular with laptop/tablet manufacturers.
This processor is manufactured on Intel's first-gen 10 nm process for an OK energy efficiency.
AMD Ryzen 3 PRO 2200U
► remove from comparison
The AMD Ryzen 3 2200U is a mobile APU for thin and light laptops that was announced in Early 2018. Compared to the consumer Ryzen 3 2200U, the PRO versions offer additional security features. It includes two Zen cores clocked at 2.5 to 3.4 GHz and offers SMT (four threads at once) and 4 MB L3-Cache. The integrated graphics card is called Radeon RX Vega 3 and offers only 3 CUs (192 Shaders) clocked at up to 1000 MHz. The TDP is configurable between 12 and 25 Watt (15 Watt nominal).
More information on Raven Ridge can be found in our launch article.
| | | | |
| --- | --- | --- | --- |
| Model | AMD Athlon Silver 3050e | Intel Celeron N5095 | AMD Ryzen 3 PRO 2200U |
| Series | AMD Raven Ridge (Ryzen 2000 APU) | Intel Jasper Lake | AMD Raven Ridge (Ryzen 2000 APU) |
| Codename | Zen | Jasper Lake | Zen |
| Series: Raven Ridge (Ryzen 2000 APU) Zen | | | |
| Clock | 1400 - 2800 MHz | 2000 - 2900 MHz | 2500 - 3400 MHz |
| L1 Cache | 192 KB | | 192 KB |
| L2 Cache | 1 MB | 1.5 MB | 1 MB |
| L3 Cache | 4 MB | 4 MB | 4 MB |
| Cores / Threads | 2 / 4 | 4 / 4 | 2 / 4 |
| TDP | 6 Watt | 15 Watt | 15 Watt |
| Technology | 14 nm | 10 nm | 14 nm |
| Socket | FP5 | BGA1338 | AM4 |
| Features | XFR, FMA3, SSE 4.2, AVX2, SMT | Intel UHD Graphics (16 EUs, 450 - 750 MHz), Quick Sync, AES-NI, max. 16 GB of quad-channel LPDDR4x-2933 | XFR, FMA3, SSE 4.2, AVX2, SMT |
| iGPU | AMD Radeon RX Vega 3 ( - 1000 MHz) | Intel UHD Graphics (Jasper Lake 16 EU) (450 - 750 MHz) | AMD Radeon RX Vega 3 ( - 1000 MHz) |
| | | | |
| Architecture | x86 | x86 | x86 |
| Announced | | | |
| Manufacturer | AMD Raven Ridge (Ryzen 2000 APU) Athlon 3050e | Intel Jasper Lake Celeron N5095 | |
| max. Temp. | | 105 °C | |
| Transistors | | | 4500 Million |
Benchmarks
Performance Rating
- CB R15 + R20 + 7-Zip + X265 + Blender + 3DM11 CPU
- Athlon 3050e