The super-thin Asus Zenbook Pro 15 is getting an Intel Core i9 option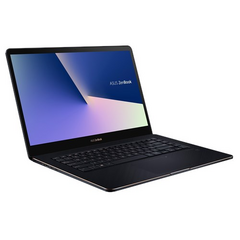 The UX550VE is being refreshed to the UX550GD with i5-8300H, i7-8750H, and even i9-8950HK SKUs. At just 18.9 mm thick, this would make the Asus notebook one of the thinnest to ship with a Core i9 processor. No other changes have been made to the chassis including the 8 to 16 GB of DDR4 RAM, FHD or 4K UHD touchscreen, glass trackpad, 1.5 mm keyboard keys, and selection of ports. Prices and availability are not yet known.
The Zenbook Pro 15 is notable for being a very thin 15-inch Ultrabook akin to the Dell XPS 15 or MacBook Pro 15. Thus, it's a bit surprising to find Asus listing the system with an optional unlocked hexa-core Core i9-8950HK CPU as part of its Coffee Lake-H refresh.
Last year's Kaby Lake Zenbook Pro 15 was limited to Core i7 options at best and so we were not expecting an upgrade to the Core i9. Manufacturers like Alienware, MSI, Aorus, and even Asus have been reserving the Core i9 for enthusiast-level gaming notebooks only like the Aorus X9, GT75, or Asus' own G703. How such a thin design like the Zenbook can cope with an unlocked CPU of this caliber remains to be seen, but users can still opt for the slower hexa-core Core i5-8300H or i7-8750H instead.
Other than the swap to 8th gen Intel Core CPUs, the new UX550GD SKUs are identical in design and features to the current UX550VE SKUs. The GTX 1050 and GTX 1050 Ti will continue to power the series alongside the FHD or 4K UHD display. It's somewhat disappointing to see no GTX 1060 Max-Q option as that would have given Asus a graphical edge over the XPS 15 and put the system more on par with the popular Gigabyte Aero 15.
It is unknown when Asus plans to ship the refreshed Zenbook Pro 15 as the manufacturer rarely announces ship dates and prices ahead of schedule for systems with only minor internal changes.
The Intel Core i9 series was introduced for mobile alongside the reveal of Coffee Lake-H to supplant last year's Core i7-7820HK.
Source(s)