Asus launches more affordable ROG GU501GM gaming laptops with six-core CPUs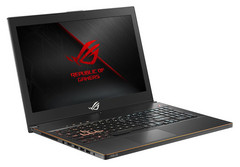 If the ROG Zephyrus seems too expensive for your budget, you may want to take a look at the ROG GU501GM instead. The more affordable GU501GM comes with almost the same design features, and the specs are still very solid, as it includes the i7-8750H six-core CPU, a GTX 1060 6 GB VRAM video card, 16 GB DDR4-2666 RAM, a 128 GB SSD + 1 TB Hybrid HDD, and a Thunderbolt 3 connector.
Asus is currently refreshing all of the gaming laptop series with Intel's gen 8 mobility six-core CPUs, and among the latest models to receive this upgrade is the ROG GU501GM. This one could be best described as a budget ROG Zephyrus M, as it comes with a similar design, but does not pack all the expensive options.

First noticeable difference between the two models is related to the display. While Zephyrus M comes with an FHD 144 Hz IPS screen, the GU501GM replaces that with a 15.6-inch 120 Hz IPS-level display. Next up is the GPU: instead of a GTX 1070, the GU501GM packs only a GTX 1060 6 GB VRAM (non-Max-Q version).

Otherwise, the list of specs is as solid as it can get and includes:
• Intel's latest six-core i7-8750H clocked at 2.2 GHz (3.9 GHz Turbo)
• 16 GB DDR4-2666 of RAM upgradeable to 32 GB
• 128 GB SSD + 1 TB SATA Hybrid 5400 RPM HDD
• RGB keyboard
• WiFi + Bluetooth 4.1
• Connectors: headphone/mic combo jack, 4x USB 3.1, HDMI, Thunderbolt 3

This exact configuration is available now for US$1,499.99, but there also is a variant that packs only 8 GB RAM and a 1 TB HDD that has an MSRP of $US1,299.99.