Asus announces new brand name for AMD cards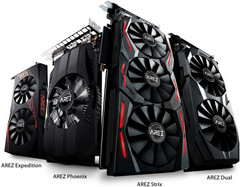 Taiwanese computer manufacturer Asus has announced a rebranding for the AMD graphics cards that were previously part of the Republic of Gamers (ROG) line-up. The new name for the series is AREZ, which derives from Ares, the Greek god of war. The new AREZ-branded cards are expected to be available from May onwards.
Asus has published a press release in which the company announces the new name AREZ for the Radeon RX graphics cards that were part of the ROG series. It's believed the firm has made this move in response to Nvidia's controversial GeForce Partner Program. This means that Radeon hardware that formerly carried the label "ROG Strix" will now simply be renamed "AREZ Strix." By doing this, Asus can associate the well-known brand ROG with Nvidia products, while AMD products will carry the new brand name. The press release highlights the Taiwanese manufacturer's relationship with AMD:
The new AREZ brand underlines the strong working partnership between ASUS and AMD that spans decades. Gamers and enthusiasts will enjoy a combination of exclusive ASUS innovations and technologies and AMD's Radeon graphics processors and software.
Along with the AREZ Strix, gamers will be able to get their hands on the AREZ Expedition, AREZ Phoenix, and AREZ Dual. Graphics cards utilizing the new brand name have already started appearing on the Asus website, such as the AREZ-STRIX-RXVEGA64-O8G-GAMING GPU which comes with "hybrid controlled fan headers for optimal system cooling."