AMD pledges to respect the gamer's choice in the wake of inconsistencies in NVIDIA's GeForce Partner Program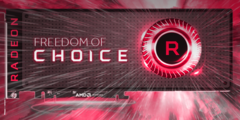 AMD's Scott Herkelman took to pen a blog post regarding AMD's stance in providing choice to the PC gamer. Although his post does not directly mention the controversial NVIDIA GeForce Partner Program, there is enough information in the post to convey that AMD will not take NVIDIA's route in the garb of ensuring a great PC gaming experience.
NVIDIA's GeForce Partner Program (GPP) has come under fire from the press and the gaming community alike for requiring OEMs to align their gaming brands exclusively with GeForce. AMD took this opportunity to clarify its stance on the issue of binding together add-in board (AIB) partners, OEMs, and customers to a proprietary suite of solutions. In a post titled 'Radeon RX Graphics: A Gamer's Choice', AMD's Scott Herkelman highlighted some of the shared values between AMD and its partners that work in the interest of the PC gamer and not against it. He feels that no one should be subjected to 'gamer taxes' to enjoy a great gaming experience, which is indeed a customer's right.
The key shared values Herkelman lists include —
A dedication to open innovation
A commitment to true transparency through industry standards
Real partnerships with real consistency
Expanding the PC gaming ecosystem
Herkelman says that over the coming weeks, AMD's AIB partners will have distinct Radeon products that carry over AMD's core values without any 'gamer taxes' or 'anti-competitive conditions'. He also says,
Through the support of our add-in-board partners that carry forward the AMD Radeon RX brand, we're continuing to push the industry openly, transparently and without restrictions so that gamers have access to the best immersive technologies, APIs and experiences.

We believe that freedom of choice in PC gaming isn't a privilege. It's a right."
AMD did not explicitly refer to the controversial NVIDIA GeForce Partner Program but the writing on the wall is fairly clear. While OEMs enrolled in the GPP will get preferential treatment and access to promotional and marketing sops from NVIDIA, it is ultimately the end-user who will have to bear the purported inconsistencies when opting for a non-NVIDIA GPP-partnered product. Asus has just announced their new AREZ Strix series of cards for Radeon GPUs while reserving the older, more popular ROG line for NVIDIA leading one to speculate that there could be significant differences in user experience. Maintaining distinction in competing lineups is not new, though. Motherboard OEMs have maintained different lineages since long for both Intel and AMD chips. As long as equivalent performance and hardware design is offered, the distinction in branding should not affect the end-user much.
With major OEMs of the likes of Dell and HP not signing into the GPP, it will be interesting to keep an eye out for future developments and note the impact of the move on both the industry as well as customers.