Myst developer Cyan releases teaser for new game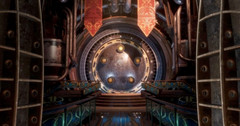 The talented folk at Cyan, Inc. have released a cinematic trailer for the upcoming game, Firmament. A spectral voice narrates as the viewer is steered around some truly stunning graphics while briefly exploring the latest world being created by the developer behind games such as Myst, Riven and Obduction. Very few details for Firmament are currently available, but it is described as "a new VR experience" on Cyan's YouTube channel.
A new teaser video for Cyan's future game Firmament has been released, and it does not disappoint. Considering this is the same game developer behind the Myst series that has sold millions of copies worldwide, there will be high expectations from fans for this next adventure.
The game has a steampunk-inspired design to it, which can be clearly seen as the trailer weaves through the rugged landscape showing bizarre pieces of machinery, a floating device which is obviously integral to the gameplay, and the translucent ghostly figure of presumably the late narrator. The official website for Firmament describes the game as:
[...] a resplendent, magical, journey - a monumental voyage through four diverse and curious realms, working in concert with an ever-present, clockwork companion, and the support and instruction of a long-dead, ethereal mentor.
Details in regard to release date, platforms and price have yet to be revealed, although there is the mention of VR in the company's YouTube channel description for the trailer. Cyan, Inc. was founded in 1987 by Rand and Robyn Miller and is based in Mead, Washington.