Looking good: Planet Alpha announced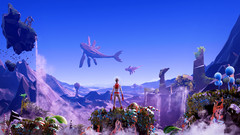 A teaser for an upcoming platform game called Planet Alpha has been released, and it looks mighty impressive. The game has been developed by Planet Alpha ApS, who are based in Copenhagen, Denmark. The creative director behind the visually breathtaking game, Adrian Lazar, previously worked on the game Hitman with IO Interactive. Planet Alpha will be published by Team 17.
A game-announcement video clip for Planet Alpha has been revealed, and so far the teaser has been positively received. The player is immersed into a wondrous and colorful alien world and will have to negotiate hazards while running through the jungle and other fantastical landscapes. Combinations of platform-style gaming, puzzle-solving, exploration, and stealth features make up the basic elements of the game.
Adrian Lazar has been working on Planet Alpha since December 2013 and it is plain to see the amount of dedication and passion that has been injected into the project. There are scant details about the game at the moment, but it is expected to be released on PC, PS4, Xbox One and Nintendo Switch. The official website for the platformer states it is "coming soon."
Developer Planet Alpha ApS has teamed up with British video-game publisher Team 17 to market the product. Team 17 is renowned for the Worms series of games and the popular culinary-themed game Overcooked. If Planet Alpha plays as good as it looks, then Team 17 will have another hit on its hands.