Games with in-game purchases will receive special label by ESRB after loot box controversy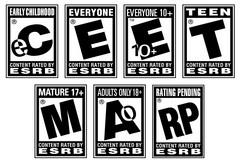 Loot boxes and microtransactions have been more present than ever in today's games, and some titles even managed to create quite the controversy by adding these in-game purchases to a full-priced game. The ESRB will now give a special label to all games with in-game purchases that will be visible on the box.
Star Wars: Battlefront II was the latest title to create quite a huge negative buzz because of the inclusion of microtransactions. To make things even worse, these in-game purchases presented an unfair advantage for those willing to pay. EA Games decided to temporarily withdraw the microtransactions, but the controversy never went away. Governments, consumers, and parents, in particular, wanted a stricter regulation of microtransactions. Nonetheless, the International Data Corporation thinks microtransactions are here to stay.
In an effort to create more clarity in the North-American market, the Entertainment Software Rating Board (ESRB) will add a new label to games with in-game purchases. Every game that will have some form of in-game purchases will receive the "In-Game Purchases" logo. The definition not only includes microtransactions and loot boxes, but regular DLC, Season Passes and the ability to remove ads for a fixed price as well.
In addition, the ESRB has launched ParentalTools.org which gives parents insights into their children's gaming activity and how to prevent children from playing games that are outside of their age limit. A special section of the website is also dedicated to in-game purchases.
The board states that this new label is the "first step of many" and they will keep discussing microtransactions in the future.