Mobile gaming increased its lead in 2017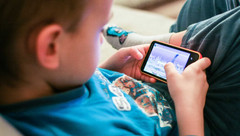 Although mobile gaming managed to leave both consoles and PCs/Macs behind for the first time in 2014, its position strengthened ever since and the figures for 2017 show that there is no turning back now. According to the latest report by App Annie and IDC, mobile game spending was 2.3 times higher than PC/Mac game spending and 3.6 times higher than the amount of money console gamers had spent during the same period.
Although its history is not very long, mobile gaming grabbed the crown of this very lucrative market and it looks like PCs/Macs and home consoles have no chance left to bounce back. In the second half of 2014, mobile gaming managed to beat the PC/Mac gaming sector. One year earlier, it did the same with the home consoles. However, the growth in mobile game spending really took off in the second half of 2015.
The figures for 2017 are quite impressive, according to a recent report that App Annie created in partnership with the well-known global market intelligence firm IDC. To sum it all up in just a few words, it is enough said that mobile game spending in 2017 was 2.3 times higher than PC/Mac game spending and 3.6 times higher than home console game spending.
In addition to the cold numbers above, it is also worth mentioning that the advertising revenue was not taken into account. For mobile games, the report included both upfront and in-app purchases made via Google Play and Apple's iOS App Store. For PC/Mac and home console titles, it took into account both digital and physical sales.
When comparing Android and iOS games, the conclusion is the same as that concerning the overall mobile app spending we talked about a while ago: although the users downloaded two times more games via Google Play, the iOS games generated two times as much money per consumer on average.
At last, we should also mention that the games made in Asia dominate both Android and iOS. Their list includes Honour of Kings, Lineage 2: Revolution, Monster Strike, Fate/Grand Order, Clash Royale, Candy Crush Saga, Lineage M, and Fantasy Westward Journey.
If you think that you put too much money in mobile games lately, you should take a look at the video below. In the end, please feel free to drop a comment about your most expensive mobile gaming purchase, since it would be really interesting to see some numbers from our readers.