Activision nets over $4 billion in microtransactions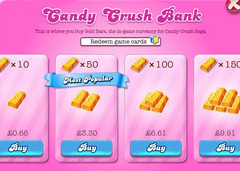 Activision Blizzard Inc. has released financial results for 2017 which show over $7 billion in net revenue. A substantial portion of this revenue has been provided by in-game transactions, in part enhanced by the American company's purchase of King.
There's no denying the financial structure behind gaming has altered dramatically over the last couple of decades. In-game transactions have become big business for the major players in the gaming industry. Activision Blizzard has just released its fourth-quarter and 2017 financial results, and it is clear to see that an impressive chunk of the company's net revenue comes from in-game net bookings. Total net revenue for 2017 was $7.017 billion, with over $4 billion of that coming from in-game purchases. That's a lot of new lives being bought in Candy Crush Saga.
The subject of microtransactions is considerably controversial among the gaming community. Access to new content can be blocked without payments being made, unfair advantages are seemingly given to those willing to keep paying and there is always the dual concern of gaming addiction and attainment of financial debt. But when a major entertainment company like Activision Blizzard Inc. posts such healthy returns, it seems unlikely that microtransactions will be going away any time soon.
The company attributes parts of its 2017 success to sales of DLC for Call of Duty: Black Ops III and passes for games such as Destiny 2 and Call of Duty: WWII. King (Candy Crush Saga, Candy Crush Soda Saga) will likely be a cash cow for Activision Blizzard. King was purchased for $5.9 billion in 2016 and will no doubt become one of the main contributors to Activision's massive microtransaction revenue.