Overkill's The Walking Dead gets a new trailer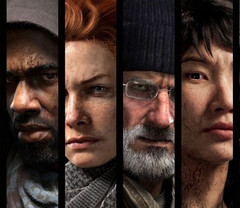 A new trailer has been released for Overkill's The Walking Dead and it certainly looks impressive. The cinematic clip focuses on Maya, who will be one of the playable characters in the game. Overkill Software announced the title back in 2014 and it was originally scheduled to appear in 2016. The current release date for the first-person shooter is fall 2018.
Swedish developer Overkill Software has released a new trailer for the upcoming game Overkill's The Walking Dead. The company has been working with Robert Kirkman, the creator of The Walking Dead comic book, to come up with a game that will seem authentic to fans, both in characterization and setting. Overkill, which was acquired by Starbreeze Studios in 2012, is the firm behind the highly successful Payday games.
The game will be a four-player cooperative first-person shooter based in Washington D.C. when the walkers start rearing their ugly heads. A trailer for the first revealed character, Aidan, was released late last year. The stressed-out architect takes on the post-apocalyptic world armed with a nail-studded baseball bat, whereas Maya is a surgeon who will no doubt come in handy for her healing skills.
Overkill's The Walking Dead will be available for PC, PlayStation 4, and Xbox One in fall 2018. You can watch the trailers below; both clips contain graphic scenes of horror and violence.