Square Enix to fix problems with Chrono Trigger port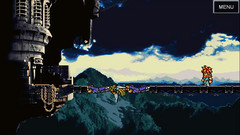 There was some excitement among JRPG fans in February when a PC port of Chrono Trigger unexpectedly turned up on Steam. However, that excitement soon turned to exasperation as many gamers complained about the graphics and the user interface. The company behind Chrono Trigger, Square Enix, is aiming to release a series of patches to address the most common issues.
Working For Notebookcheck
Are you a techie who knows how to write? Then join our Team! Especially English native speakers welcome!
Currently wanted:
News and Editorial Editor - Details here

The PC port of Chrono Trigger that was made available on Steam in February has faced considerable criticism from gamers, mostly in regard to the graphical style and inappropriate UI. Square Enix has announced through a post on Steam that the company is working on a series of patches to improve the Windows version of the much-loved game. The first patch is expected to be released in the first half of April and should enable players to switch between the current port's graphics and the original style of the 1995 SNES game.
The problem with the PC port of the JRPG classic was that it was based on the mobile version of the game. Poor graphics and gameplay glitches are not terms Square Enix would want to become associated with, so the Tokyo-based firm has wisely decided to deal with fans and their complaints directly. The announcement of a series of patches to improve the PC version of Chrono Trigger has been taken with some cautious optimism.