Chrome Web Store bans extensions that mine cryptocurrencies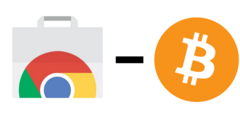 The Chrome Web Store has updated its policy concerning extensions with crypto-mining scripts, outright banning such extensions from the store. Any existing extensions that can be used for mining cryptocurrencies will be removed by the end of June 2018. While the policy will prevent future extensions that are obviously used for crypto-mining, it remains to be seen if this will solve the problem of surreptitious mining scripts hidden in otherwise innocuous extensions.
Attention, Chrome users: the days of mining cryptocurrencies through your web browser are quickly drawing to a close. Yesterday, Google announced that they would outright ban any extension that used the system resources for mining cryptocurrencies of any kind.
Up until this announcement, the Chrome Web Store's official policy allowed for crypto-mining extensions given that mining was their sole purpose and users installing the extension were explicitly aware of the extension's purpose. Of course, the Internet being the Internet, few developers of crypto-mining extensions actually followed this policy. James Wagner, Chrome's Extension Platform product manager, stated that "approximately 90% of all extensions with mining scripts that developers have attempted to upload to Chrome Web Store [sic] have failed to comply with these policies." The offending extensions were either rejected or removed from the Web Store.
In response to the rapid rise in extensions with mining scripts (either blatant or surreptitious), the Chrome Web Store issued an outright ban on any future extensions with such a script. Extensions with these scripts already on the Web Store will be removed by this June. Wagner did say that other extensions used for blockchain purposes other than cryptocurrencies will remain active and available.
While this move will cut mining extensions that are upfront about their purpose, it remains to be seen
whether or not this new policy will counteract mining scripts that are hidden in other scripts. Recently, some otherwise unassuming extensions have either been hijacked by crypto-mining malware scripts or embedded mining processes deep within the extension itself. Back in January, Opera (a competing browser built on Chromium) instituted built-in protections against crypto-mining scripts in their desktop and mobile browsers. Google may do well to follow in their footsteps with a future Chrome release.