Bitcoin crisis continues with another huge price drop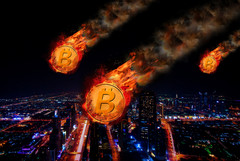 Bitcoin has suffered yet another turbulent day in regard to its market value. Within the last 24 hours the virtual currency's worth has dropped from a high of US$7382 to a close of US$6822, reaching a low of US$6660 at one point. The leading cryptocurrency was valued at US$11,645 on March 5, so its considerable drop in the space of just a few weeks will be disconcerting for investors.
Heavy investors of Bitcoin must be sweating at the moment, especially if they got on the cryptocurrency bandwagon before September 2017 and have stayed on it. The incredible elation that must have been felt as the virtual currency (VC) enjoyed a meteoric rise from around US$3300 in mid-September to US$19,435 by mid-December is surely dissipating rapidly as Bitcoin continues to shed its value. The reasons behind Bitcoin's latest drop are believed to be the announcement that China's central bank is considering releasing its own VC (prosaically known as the "Digital Currency for Electronic Payment" or "DCEP") and stricter regulation in the lucrative Japanese market where a number of cryptocurrency exchanges have had to close.
With new cryptocurrencies being offered at a startling rate, it's not just Ethereum and Litecoin snapping at Bitcoin's heels nowadays. New VCs are aiming for legitimacy by being tied in with established products and services: Telegram is enjoying massive ICO success thanks to the popularity of its messenger service and AirAsia has announced plans to launch a cryptocurrency-based rewards program.
It seems Bitcoin has faced a never-ending series of obstacles in recent months. There has been the clampdown by the US Securities and Exchange Commission, the constant threat of central regulation, the fear that many investors have in regard to potential hacking thefts, and the news that Twitter will ban ads for Initial Coin Offerings and token sales. Google will start banning adverts that promote VCs in June.
This may not be the Bitcoin bubble burst that many expect, but it is definitely a sign of uncertain times for the world's first decentralized digital currency.