Report suggests cryptocurrency market could face 90% correction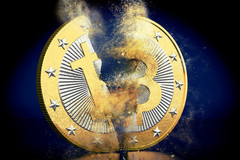 A report from a leading investment banking firm has forecast that cryptocurrencies are heading for a 90% correction within the next 12 months that will devastate the cryptocurrency market. Many virtual currencies could be wiped out, although those that survive the predicted market turmoil will enjoy impressive growth in the resulting less-cramped environment.
An article from CNBC has picked up on a report created by investment bank GP Bullhound called "Token Frenzy: The Fuel of the Blockchain." The report's main author, Sebastian Markowsky, believes that cryptocurrencies will endure a 90% correction within 12 months. "Correction" is a term for a type of market trend where prices experience a short-term drop. A 90% correction would be seen as very heavy and extremely damaging to the cryptocurrency market.
Virtual currencies have experienced volatile price fluctuations in 2018 and their number has grown considerably: At the time of writing there are at least 1,777 cryptocurrencies listed and the total market cap is over US$429 billion. Well-known VCs such as Bitcoin, Ethereum, and Ripple still lead the pack in terms of market cap and would be the most likely contenders to weather a 90% correction storm. In the last month alone, Bitcoin has been recovering from a low price of US$6,571 on April 6 to the latest close of US$9,135.
Spreading words of doom and gloom in the cryptocurrency world is common activity. But with tokens and coins being released on a daily basis, fraudulent ICOs frightening off investors, and the constant threat of regulation looming, it wouldn't be surprising if elements of this latest report end up becoming reality.