Get off the Bitcoin bandwagon, Ripple is on the rise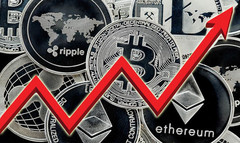 The cryptocurrency Ripple (XRP) has been performing well lately and may hit a price of US$1.00 in the near future. Like many virtual currencies, it has dropped in value over the last few weeks, reaching a low of US$0.48 as recently as the second week of April. But now the Ripple network's native cryptocurrency seems to be bouncing back.
Working For Notebookcheck
Are you a techie who knows how to write? Then join our Team! Especially English native speakers welcome!
Currently wanted:
News and Editorial Editor - Details here

Bitcoin (BTC) tends to hog many of the virtual currency headlines: The famous cryptocurrency deals with big numbers which help make stories people want to read. BTC was worth almost US$20,000 in December 2017, and even now the VC has a high value of US$8,320. But the roller-coaster ride Bitcoin has been on over the last few months may seem terrifying to mere mortals, which is why a VC like Ripple could be seen as the more attractive option for casual investors.
Ripple is also affected by the rapid peaks and troughs that cycle through the cryptocurrency market, but its relatively low price means a curious investor holding just a few altcoins is less likely to be traumatized by a sudden market depression than an investor dealing solely with BTC. XRP does have an extremely fluid value though: On December 4, 2017, it was worth around US$0.25; by January 4, 2017, Ripple reached a high of US$3.84. A big plus about this particular VC is the business partnerships the company has formed: Santander, American Express, Deloitte, and Accenture are just a few of the companies that have worked with Ripple technology.
The continued support from big names in the financial sector appears to be giving Ripple an edge when it comes to heading toward mainstream acceptance, which would make it a more appealing prospect for traders in general.