ZTE Tempo Go now shipping in the US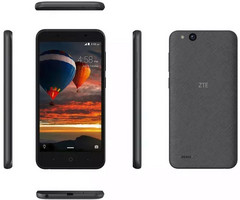 Although the sub-US$200 market sector is quite crowded these days and there are a few capable handsets even around US$100, the ZTE Tempo Go tries to fight them with a price tag of just US$79.99. Sadly, this is nothing new, since the Tempo Go is only a ZTE Tempo X — a handset that arrived in late September 2017 — with Android Go onboard and a slightly different name.
The ZTE Tempo Go only comes in black, but it has a nice texture on the back. Apart from this small design detail, there is nothing interesting under the hood. The list of specs and features includes a Qualcomm Snapdragon 210 processor, 1 GB memory, 8 GB internal storage, microSD support, a 2 MP front camera, a 5 MP main shooter on the back, a 5-inch IPS LCD with 480 x 854 pixels, micro USB 2.0, WiFi 802.11 b/g/n, Bluetooth 4.2, and GPS with A-GPS and SUPL support. This handset is powered by a removable 2,200 mAh battery that can provide 12 hours of talk time and a standby period of up to 220 hours.
These being said, we only need to add that the price tag of US$79.99 also includes free standard shipping. If this low-end handset seems like an interesting device to get as a secondary/backup phone or as a first phone for your kids, you might want to take a look at the video below. As usual, don't be afraid to comment if you have anything to say.